If you're interested in applying for the AARP Credit Card, all information necessary to get your application successfully submitted can be found within our tutorial below. Acquiring this card means you will be able to take advantage of a rewards program that awards you with cash back on purchases made with the card. You can earn 3% cash back at restaurants and on gas, and 1% cash back on all other purchases. You will also receive a $100 cash back bonus when you spend $500 within the first 3 months. To further incentivize prospective cardholders, Chase Bank (the card issuer) has given an introductory 0% APR for 12 months on all purchases and balances transfers. After the 12 month period has ended, your interest rates for both net purchases and balance transfers will be set somewhere between 16.24% and 23.24%, based on your creditworthiness (APR is subject to change). These rates are fairly average when compared to the other cards that are available on the market today. If you're satisfied with the average APR and the cash back rewards program, scroll down to our tutorial below to learn how to apply.
Before proceeding, take a moment to review Chase Bank's privacy policy to see how your personal information will be used.
Requirements
In order to be eligible for this card, the following requirements must be met:
You are at least 18 years of age
You have a valid SSN
You reside in the United States
How to Apply
Step 1- Start by navigating to this webpage. Once the page has loaded, click on the Apply Now link to access the application page for the AARP Credit Card.

Step 2- Next, you will need to supply some personal information. The exact data that's required of you is as follows:
Full name
Mailing address
City
State
Zip code
AARP Membership Number (if any)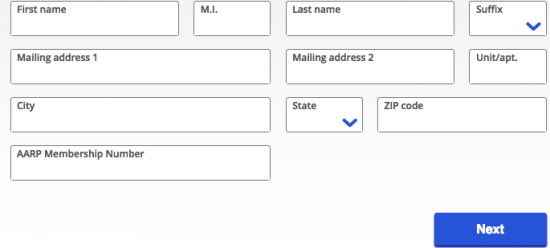 Step 3- At the top of this segment, specify the type of bank account you have by selecting Checking or Savings. Continue by indicating your Type of residence and your Source of income. Lastly, enter in your Monthly Housing payment, Gross annual income, and the name of your Employer.

Step 4- Supply your Primary phone number, Email address, Date of birth, Social Security number, and your Mother's maiden name.

Step 5- Here, you are able to add an authorized user to your account. You may also perform a balance transfer to consolidate your previous balances into one bill. Both of these tasks are optional and you can skip them if you wish.


Step 6- Lastly, take a moment to review the terms and conditions associated with this credit card. If you are in compliance with Chase Bank's terms, check the small box found towards the bottom of the page. When you are certain that your personal information has been supplied correctly, click Submit to send your card request in to Chase Bank for review.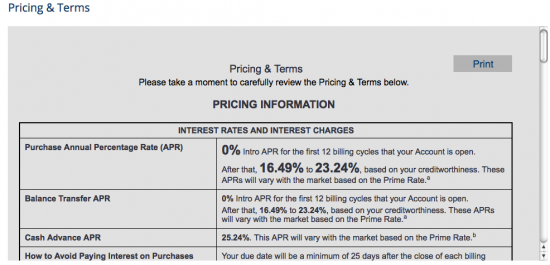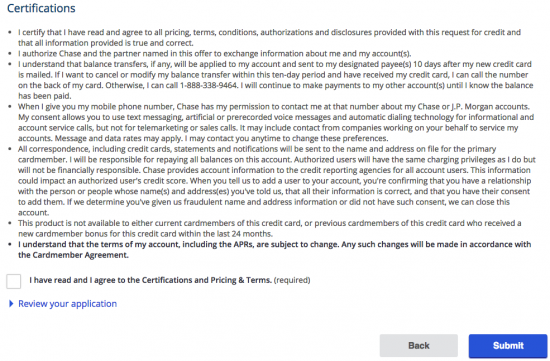 You should receive confirmation shortly via email concerning the status of your application. That's all there is to it! We hope you found this tutorial beneficial and we wish you the best of luck with your new credit card.