The American Express Platinum Delta SkyMiles Business credit card is a mediocre card that should only appeal to business owners who are regular travelers and have a strict allegiance to Delta Airlines. Much like all of the other American Express Delta credit cards, the American Express Platinum Delta SkyMiles Business credit card comes with a hefty price tag of $195 annually, and only counterbalances this annual fee with marginal returns of reward miles and travel benefits. While the travel benefits of concierge service, V.I.P. lounge access, travel insurance, and early boarding access, are definitely valuable it is also definite that they do not need to be attached to your business credit card. The ability to earn reward miles on purchases is great as long as your business is making a large amount of annual purchases as it will take a vast amount of purchases to offset the annual fee and ultimately benefit the business. If you are interested in applying for the American Express Platinum Delta SkyMiles Business credit card, follow the steps listed below.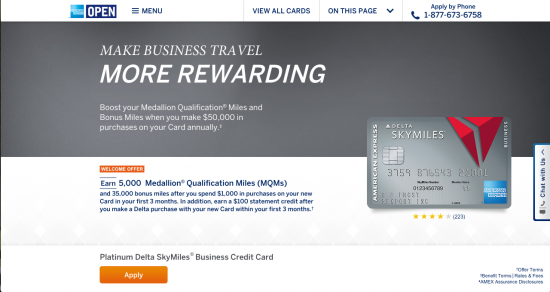 Requirements
Potential cardholders must ensure that they meet the criteria of eligibility before beginning the application process. In order to apply, you must:
Be a resident of the United States of America
Be 18 years of age or older
Once you are certain you meet these requirements, follow the steps below to complete the application process.
How to Apply
Step 1: Navigate to the secure login webpage by either clicking the link in this sentence, or clicking any of the images on this webpage. You will be brought to the landing page pictured below.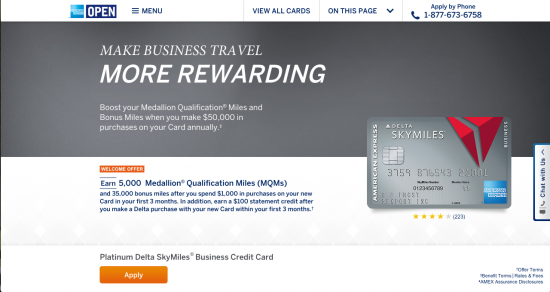 Step 2: Click the orange "Apply" button.
Step 3: Input the following information in the applicable blank field, keeping in mind that only the fields marked with an asterisk (*) are mandatory:
Your
E-mail address
Business name
Business name you wish to appear on card
Business address
Business zip code
Business phone number
Industry type
Company structure
Years in business
Number of employees
Annual business revenue
Federal Tax ID
Role in company
Step 4: Click the blue "Continue" button to continue.
Step 5: Input your personal information such as:
Your
First and last name
Social security number
Home address
Home city
Home state
Home zip code
Step 6: Click the blue "Continue" button to finalize the application process.
You can now give yourself a big pat on the back as you have now completed the application process for the American Express Delta SkyMiles Business credit card. You will receive approval or rejection of your application within 60 seconds of submission. If you do not receive approval or rejection within that amount of time, it is advisable that you contact American Express as an issue of some sort has occurred.