The American Express Everyday Credit Card is an introductory credit card designed for people with no special financial circumstance such as business needs or travel incentives. The card has a 0.00% APR for the first 15 months, making it highly competitive and worth looking into. For those interested in applying we have created an easy-to-follow application guide available just below.
Before applying please take a moment to review the American Express Online Privacy Policy to ensure that your information is being properly protected as it is submitted to their application form.
How to Apply
Applicants will find Amex's secure form available from their card summary page which details the rewards program built into the financial architecture of the Everyday Credit Card. In order to access the secure form you first select the blue Apply Now link.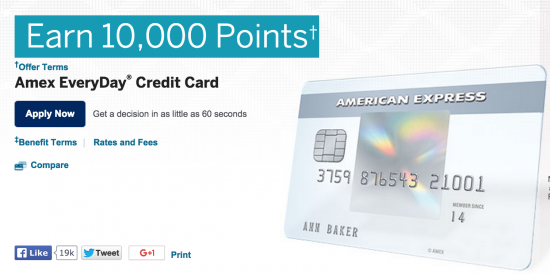 Step 1- Personal Information
You will have to enter some basic personal information here. Keep in mind that the submission of financial information is meant to aid American Express in evaluating you, the potential cardholder, in terms of your creditworthiness, thus determining your eventual APR rate. The specific information you will need to surrender is as follows:
Full name
Name on card
Email address
SSN
Date of birth
Phone number
Home address
Total annual income
Income source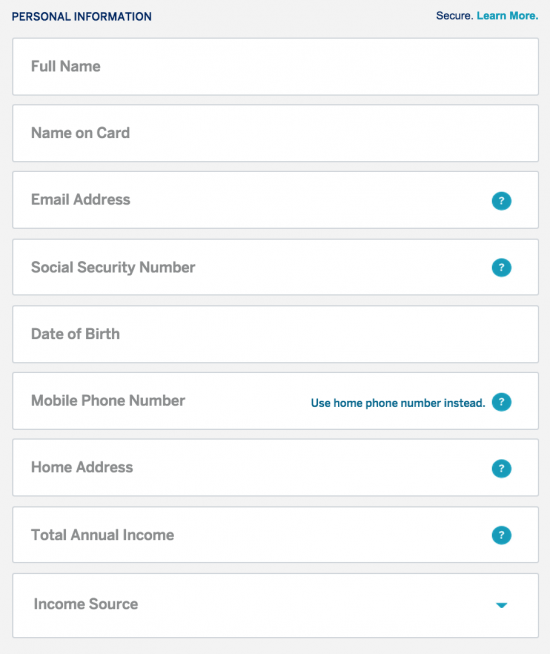 Step 2- Additional Options 
If you would like to request additional cards for family members, employees, or dependents, you may do so at this point. Be aware that as the primary account holder you are ultimately responsible for all bills and fees associated with the account. You may also, at this point, perform a balance transfer from any major credit card onto your new Amex card.

Step 3- Terms and Conditions
Read through the terms and conditions and, if you approve, select the blue Agree & Submit Application link to end the process. A judgement of your creditworthiness will be rendered within 60 seconds by Amex.