Nordstrom makes it easy to manage your Nordstrom credit card account online. Their secure website allows you to view account details 24/7. If you have problems signing in, you can call 1-866-491-7860 for direct support.
How to Login
Click here and enter your user name and password in the upper right hand corner of the page. If necessary, click on the "Forgot Your Password?" or "Forgot UserName?" links for assistance obtaining your account details.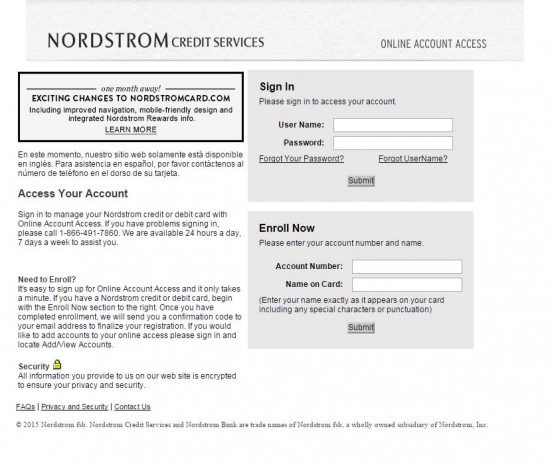 Make a Payment
Once you've successfully logged into the website, you'll be able to view your statement and rewards balance online before making a payment. If desired, you can also use the site to set up AutoPay Online, Nordstrom's monthly automatic payment service.
Activation
If this is your first time visiting the site, enter your account number and the full name on your Nordstrom credit card in the boxes under the "Enroll Now" section. This will guide you through the process of activating your account. Do not exit the website until you receive a message saying that your account has been activated and your card is ready for use.
How-to Video
[youtube]https://youtu.be/C4gNQcqSGpE[/youtube]