Proud owners of the AgFed Credit Union Classic Visa Credit Card will find that they have one of the easier to access customer portals in the market, especially considering that AgFed is a credit union. Once logged in cardholders will be able to perform any normal function with ease, including paying bills and changing account information.
Please read through AgFed's online privacy policy before submitting any private information into their forms.
How to Login
The login fields are available at this webpage. To login simple enter your member number or username, and your password.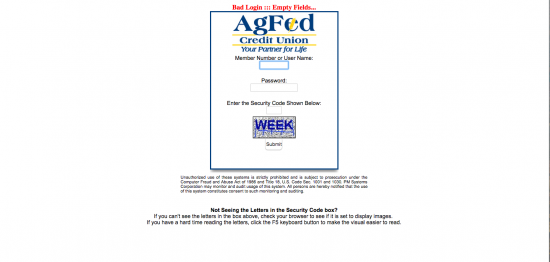 Activate
For those individuals who feel more comfortable talking to a real human, you may activate your card by calling 202-479-2270. For the rest of us, simply follow the link above and, once there, enter your member number and the last 4 digits of your SSN. Select the blue Login link to begin the process. Once completed, you will be able to customize your account, set security parameters, and finally activate your card.