The AgFed Credit Union Secured Visa Credit Card is offered in partnership by the Agricultural Federal Credit Union and Visa. The card's APR is fairly low at 14.9% APR in case you must miss a monthly payment. One of the drawbacks of the card is the annual fee of $25. However, there are no foreign transaction fees and a generous travel insurance program.
If you would like to review it, the AgFed Privacy Policy is available on the AgFed website and details the terms of AgFed's information sharing policies. If you would like to learn how to apply for the card, read on for easy to follow instructions.
Requirements
Before you begin the application, keep in mind that there exist some qualifications. Check your eligibility by making sure you are:
At least 18 years of age
A U.S. citizen
In possession of a social security number
In possession of a valid government-issued ID
A member of the Agricultural Federal Credit Union
How to Apply
The application process is very straight forward. These instructions explain the process. If you have any issues with your application you can always call 202.479.2270 or email members@agriculturefcu.org.
Step 1: Go to This Webpage.
Step 2: If you plan on applying as an individual applicant, tick the box beside "Individual". In the case that you have a partner you're applying with, click "Joint". The joint applicant option is useful for those with partners that they share bank accounts with.

Step 3: Input your borrower's social security number. The "borrower" is the main applicant. Now enter your borrower member number. This is your AgFed number that can be found on a bank statement delivered to your home in the mail.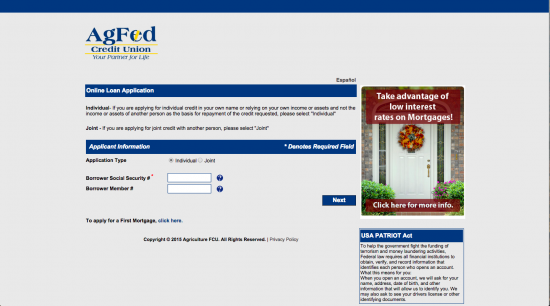 You're almost finished! Next you will be required to enter some financial information and finally confirm the selections you've made during your application. In addition to this, you'll need to read and review the Terms and Conditions of your AgFed Credit Union Secured Visa Credit Card.