SMART union members who are looking to acquire a new credit option have the privilege of applying for the Amalgamated Bank of Chicago SMART Union Bank Card. This credit card has some of the lowest interest rates on the market and a point based rewards program to boot. If you get approved for this card, you will receive an introductory o% APR on all purchases made within the first 12 months of card activation. Once this introductory period expires, your APR for purchases and balance transfers will be 9.5%! This rate is exceptionally low and it is worth acquiring this card based on that alone (APR is subject to change). However, if you're still not convinced, you may be persuaded to apply based on the fact that this card allows you to earn points on all purchases made with the card (1 point per $1 spent). When you save up enough points, you can redeem them for gift cards, statement credit, merchandise, cruises, and airfare. If this card has gained your interest, scroll down to our tutorial below to get started with your application.
Before submitting any personal information online, we recommend that you review Amalgamated Bank of Chicago's privacy policy (ABOC is the financial institution which has issued this credit card).
Requirements
To be eligible for this credit card, the following requirements must be met:
You are at least 18 years of age
You have a valid SSN
You reside in the United States
You are a SMART union member
How to Apply
Step 1- To apply for the Amalgamated Bank of Chicago SMART Union Bank Card, you must navigate to this webpage. You should see three option available under the Apply Online heading. Select S.M.A.R.T Union Bank Card Application to proceed.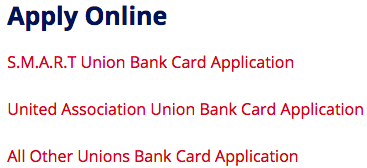 Step 2- On this page, you are presented with a brief summary of some of the features found through this credit option. Proceed by clicking the Your Contact Information link located within the blue window on the left of your screen.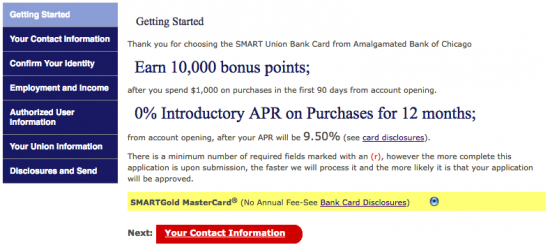 Step 3- Here you are required to supply some general contact information. The exact data that's asked of you is as follows:
First name
Last name
Primary phone number
Email address
Street address
City
State
Zip code
Housing status
Monthly payment
Once you've supplied the requisite information, click Confirm Your Identity to proceed.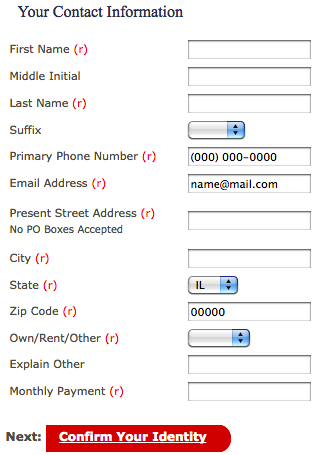 Step 4- Next, enter-in your Social Security Number and your Date of Birth before clicking Employment and Income to continue.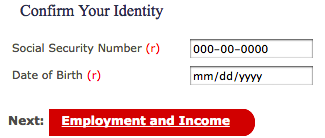 Step 5- Regarding your Employment and Income, use the drop-down menu to specify your Employment Status, enter-in your Total Annual Income and describe any Other Income that you may receive. Proceed by clicking Authorized User Information.

Step 6- Select Yes or No to indicate whether or not you would like to add an authorized user to your account. If yes, specify the following details before clicking Your Union Information to proceed:
First name
Middle initial
Last name
Primary phone number
Email address
Street address
City
State
Zip code
Date of birth
SSN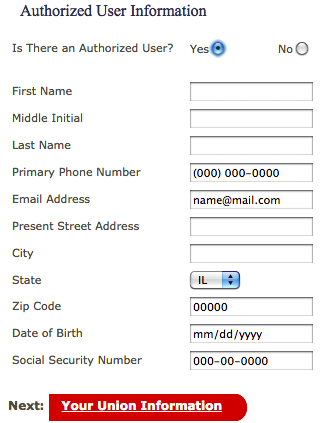 Step 7- Under the Your Union Information heading, enter-in your Union Group, Local Chapter, Local Union Phone Number, and provide the date you became a member. Once entered, click Disclosures and Send to proceed.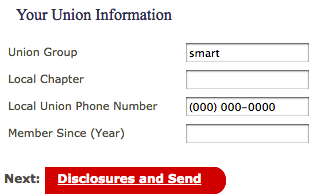 Step 8- Lastly, read over the terms and conditions for this credit card to get a full understanding of what it is you are applying for. If you are in compliance with ABOC's terms, provide your initials beside Applicant initial here and check the box just to the right to confirm that you are able to receive the privacy principles electronically. Finalize your application by supplying your signature and the date at the bottom of the page, and click Send to have your card request sent in to ABOC for review.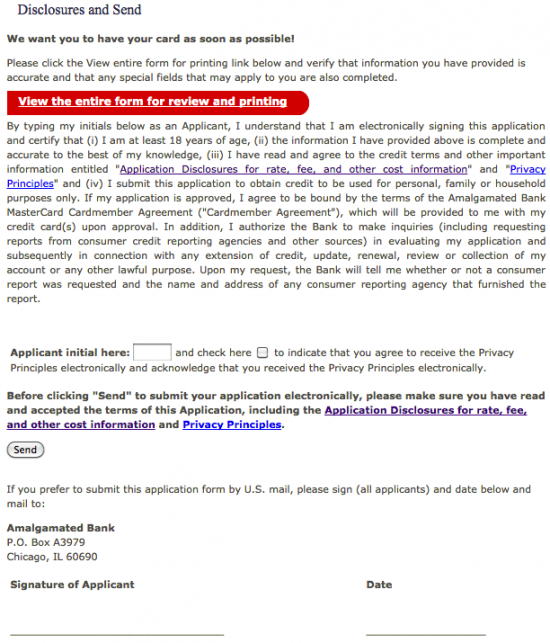 That's all there is to it! We hope that you found this tutorial beneficial in your attempt to apply for this credit card, and that your experience was as stress free as possible. Best of luck with your new card.