The American Kennel Club Visa Credit Card is a decent credit option with competitive interest rates and a rewards program that can save you money on your pet related products. With the rewards program, the amount of points received is based on what you spend, with 3 points being given for every $1 spent at pet stores, veterinary offices, on AKC mail/phone/booth, and at akc.org. You will also receive 2 points per $1 spent on groceries and gas, and 1 point per $1 spent on all other purchases. If you are a pet owner and you find yourself spending a significant amount of money on the various pet related categories listed above, then this card might be the right choice for you. Otherwise, there are multiple other reward cards out on the market today that can match what's found through this offer and might even cater more strongly towards the purchases that you make (e.g. a rewards card that provides a larger amount of points when purchasing flights or hotel stays). Should you be interested in acquiring this credit card, please read on to find our official application guide.
Before applying for this card, make sure you review the Comentiy Bank privacy policy as they are the financial institution which will be handling your personal information.
Requirements
Applicants must meet the following requirements in order to be eligible for this credit card:
Be at least 18 years of age
Have a valid SSN
Have a valid US street address
How to Apply
Step 1- In order to access the secure application, you must first navigate to the card summary page hosted by AKC. From there, scroll down and select the green Apply Now button to continue.

Step 2- Here is where your personal information must be supplied. In the empty fields, enter the following:
First name
Last name
Home address line 1
City
State
Zip/postal code

Step 3- To continue, type in your Email Address, Home Phone number, and Work Phone number (optional).

Step 4- Here you must supply your Social Security Number, Annual Income, and your Date of Birth.

Step 5- Select either Yes or No to specify whether you'd like to add an authorized buyer to your application. Note that an authorized buyer is someone who can make purchases with the card, though you will still be the primary account holder.

Step 6- Scroll down to the bottom of the page where you should see a review of the terms and conditions. Review this document over carefully before proceeding to ensure that you understand exactly what it is you are applying for. If you agree to the terms, check the small box found below the terms window to provide consent. Click Apply Now when you're ready to proceed and your application will be sent in to Comenity Bank for review.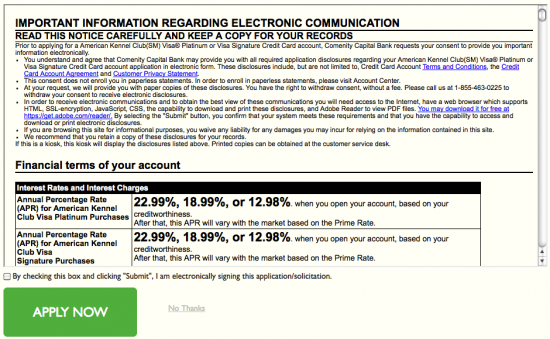 That wasn't so bad right? We're glad you made it through the application procedure and we wish you the best of luck with your new credit card. Take care!