The Apple Rewards Credit Card, offered through Barclaycard, is theoretically a good option for anyone who frequently shops at Apple. However, in comparison to other brand cards, especially those powered by Barclaycard, the interest rates are much higher and the rewards lower. The points earned with the card provide savings solely on Apple products and come in the form of Apple and iTunes gift cards. The more you shop with Apple the better, as 3 points will be awarded for every $1 spent, though you can still earn points on your non-Apple purchases since 2 points will be received for every $1 spent at restaurants and 1 point for every $1 spent elsewhere. To give you an idea of what these points are actually worth when redeemed, you will need a grand total of 2,500 points just to earn a $25 gift card. If you plan on making a significant amount of purchases on Apple products over the next few years, this card may just come in handy. If not, we recommend looking elsewhere. Those interested in applying can scroll down to our guide below for a detailed look at the application process.
Before you begin to enter sensitive, private information into the application form, please review Barclaycard's privacy policy in order to find out exactly how they will be protecting this information.
Requirements
Before applying, make sure you meet the Barclaycard credit card requirements.
Be at least 18 years of age
Have a valid Social Security Number
Have a valid US street address
How to Apply
Step 1- You can access the application form for the Apple Rewards Credit Card by navigating to this webpage and selecting the Apply at Barclaycard link.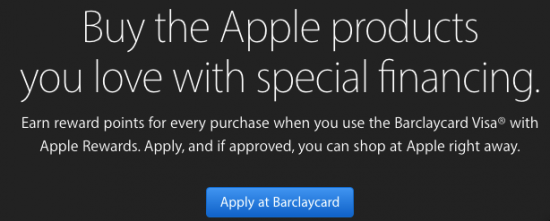 Step 2- Once you've found the application, you will have to enter some basic personal information. The following pieces of information will be required:
Full name
Address
Duration at stated address
Residence status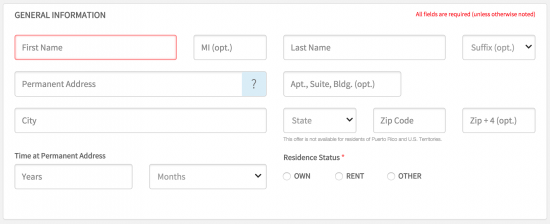 Step 3- Here you must specify your Occupation, Total Annual Income, your Planned Purchase Amount (if any), and you may optionally indicate which type of banking account you have.

Step 4- Regarding your Contact Information, please provide your Primary phone number, Email address, and specify whether or not you are a US citizen by selecting Yes or No.

Step 5- Verify your identity by providing your Date of Birth, Social Security Number, and your Mother's Maiden Name.

Step 6- Select either Apple Store Gift Card or iTunes Gift Card to indicate your rewards preference.

Step 7- You must agree to receive your bank statements electronically in order to be eligible for this credit card. To agree, check the small box located within the Electronic Delivery Consent window. The last thing you should do before officially submitting your application is review the terms and conditions for this particular credit card, ensuring that you agree with the rates, fees, and other fine print details described within the document. When you're ready to submit your card request, click Apply and your application will be sent in to Barclaycard for assessment.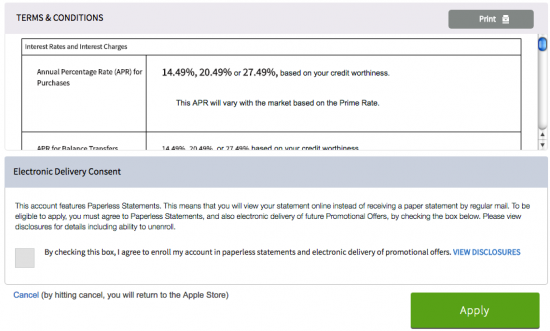 That's all for this tutorial. We hope that you found our application guide helpful and we wish you the best of luck with your new credit card. Take care!