With all of the potential benefits and rewards points, applying for the BrylaneHome Platinum Credit Card might be a good idea. There is no annual fee and you can use your card at any BrylaneHome associated retailers. This includes: Woman Within, Roaman's, Jessica London, KingSize, BrylaneHome, fullbeauty.com.
Applying is simple and can take less than 5 minutes if you prepare with your information. You also receive a $10 bonus gift card with your application.
Requirements
Not everyone can apply for the BrylaneHome Credit Card unfortunately. There are some requirements associated with the card. You must be:
At least 18 years of age
A U.S. resident
In possession of an acceptable credit rating as determined by Comenity Bank
How to Apply
Step 1: Go to This Webpage.
Step 2: Start filling out the required information. Also review the important account opening information on the right hand side of the page.
For the first section of the form, you must enter your:
First and last name
Middle initial
Social security number
Date of birth
Under "Annual Income" enter your annual income. Note the regulations to the right to understand what to include in this number.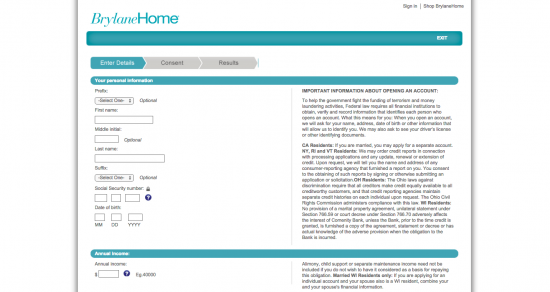 Step 3: For the next portion of the form, you must enter your:
Address and apartment number
City, state, and ZIP code
Home phone number
Work phone number
Email address
Decide whether or not you'd like to add an authorized buyer. This individual can make purchases on your account but is not legally bound to the balance of your card in any way.
After clicking "Continue" you are finished your application! Good luck with the result.