The Chase Slate Credit Card is a great card and is one of several cards offered by Chase. The card has a %0 introductory APR for your first 15 months, a low balance transfer fee, and a free monthly credit score. If this were not enough for potential applicants the card has a $0 annual fee. If you have not been following along, this is a great card that is worth the time it takes to complete the application process. Scroll down this page and you will find a guide that will tell you everything you need to know about the online application process.
Before continuing onwards we think it is important to review the online privacy policy so that you know how your personal information is going to be handled throughout the application process.
Requirements
In order for the application to be completed successfully, applicants must:
Be at least 18 years of age or older
Be a resident of the United States of America
Have a valid social security number
How to Apply
Step 1: The first thing to do is head over to the application homepage, pictured below.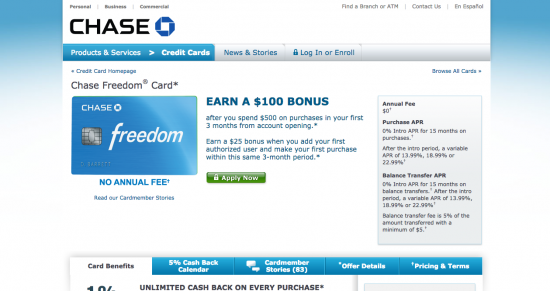 Step 2: Click the Apply Now link.

Step 3: Enter the following information in the blank space provided:
First and last name
Mailing address
City
State
ZIP code

Step 4: On the following page you will need to enter some general financial information and review the terms and conditions in order to complete the application process.
Once all of the steps have been completed you will have done everything you need to do for the online application for the Chase Slate Credit Card.