The Conestoga Bank Travel Rewards American Express Credit Card is an excellent option for those who are never in one place for too long. They've offered a point system catering to frequent flyers, as well as 2 points/1$ spent on restaurants and hotels. Although the annual fee is 95$, you will be awarded with 0%APR for the first 6 billing cycles and 7500 bonus points just for signing with them. They have a competitive APR, as low as 11.99% depending on your credit worthiness (granted if your credit score isn't strong, you may be paying up to 22.99%). If you already have accounts with Conestoga Bank and it sounds like this card may just been designed for your lifestyle, scroll down and we'll show you exactly how to get your hands on one.
Before continuing onto the online application, read over Elan Financial Services (EFS) privacy policy to ensure that you're comfortable submitting your personal information.
How to Apply
To access the Conestoga Bank Travel Rewards American Express secure application, navigate to the card summary page then click on the Apply Now option.

Step 1-Personal Information
First step is entering in the following information:
First Name
Last Name
Date of Birth
SSN
Primary Phone Number
Mobile Phone Number
Email Address

Step 2-Housing Information
Enter information on your current residence. This will include:
Street Address
Apt #(if applicable)
City
State
Zip Code
Time at Address
Housing Status
Monthly Payment

Step 3-Income/Employment Information
Entering in your financial information will have you filling these fields:
Employment Status
Annual Income
Whether or not you have another source of income
Other income Amount (if applicable)
Other income Source (if applicable)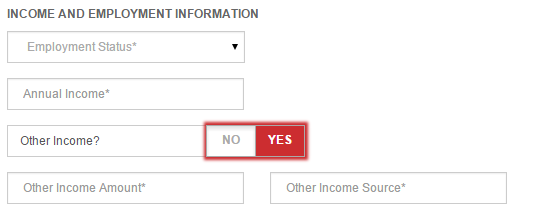 Step 4- Other Accounts
If you have other accounts with Conestoga Bank, please inform them here.

Step 5- Additional Cards
If you'd like to add an authorized user or joint applicant, click yes to the one that applies to you and fill out the provided forms.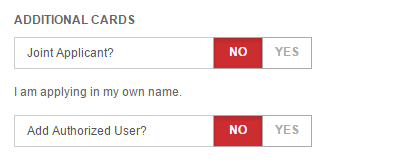 Step 6-Terms and Conditions
The last step is to review the card's terms and conditions then select the check box that indicates that you assent to them. Click submit and your done!