Pre-existing Conestoga clients looking for a business card might be interested in one of the Conestoga Visa Business Card offerings (Standard, Rewards, Rewards PLUS). The differences between these offerings is elucidated in the following table:
All cards include at least 6 months of 0% APR financing and access to the Elan financial Services (EFS) online card management portal. If you intend to apply please take a minute to review the EFS online privacy policy before submitting any personal information into the application form.
Requirements
Applicants must:
Be at least eighteen (18) years of age
Have a valid US SSN
Have a valid US street address
How to Apply
Access the application form via the card summary page corresponding to your card of choice (Business, Business Rewards, Business Rewards PLUS). Once on the page select apply now and EFS will redirect you to the application page.
Step 1- Business Information
Enter the following data regarding your business here:
Business Name
Business Tax ID
Address
Years at Address
Year Business Founded
Business Phone
Organization Type
Gross Annual Sales
Cash Acces ?(Y/N)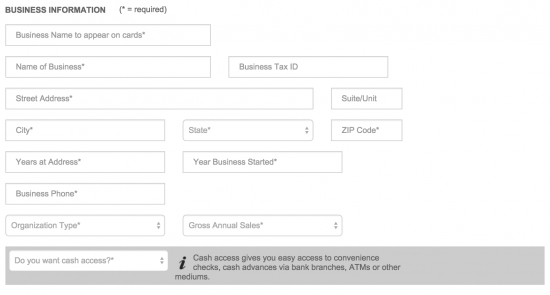 Step 2- Accounts Held
Please indicate at this point which accounts you or your business already hold with Conestoga, if any.

Step 3- Business Owner
Please input the following information for the business owner at this point in the application:
Owner Type
Full Name
SSN
Phone Number
Annual Income
Email Address
Address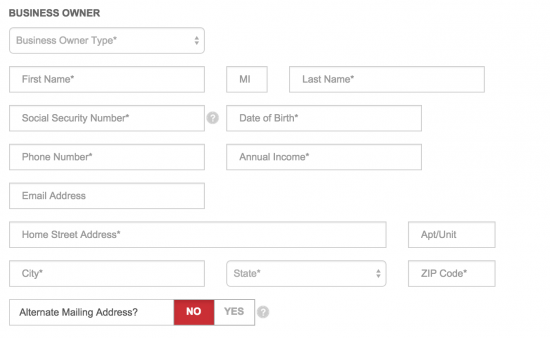 Step 4- Employee Cards
If you would like additional cards for your employees please input their information here. Keep in mind that for the PLUS option each additional card is an additional $50/year in fees.

Step 5- Disclosures
Read through the terms for your card (Business, Business Rewards, Business Rewards PLUS) and, if you agree, indicate as such by checking the provided box and selecting submit.