Are you a First Hawaiian Bank client who is interested in acquiring a new credit card? If so, you should consider applying for the First Hawaiian Bank Heritage Card. With a competitive APR and no annual fee, this is a great credit card for anyone who is more concerned with a low cost card than with having a rewards program. In addition, new cardholders are assigned a 2.99% APR on purchases and balance transfers (made within the first 30 days) for the first eight billing cycles from their account opening date. Therefore, if you have any existing higher-interest credit cards, you can consolidate your existing debts into this account to pay less interest. If this credit card sounds interesting, you can submit an online application by following our step-by-step guide below.
Before you continue, we recommend that you read the First Hawaiian Bank privacy policy to gain an understanding of how they might share your information.
Requirements
To be eligible for this credit card you must meet the following criteria:
How to Apply
Step 1 – First of all, you will need to find your way over to the First Hawaiian Bank credit card page. Once there, scroll down until you have located the Heritage Card and click the appropriate Apply Now link to access the application form.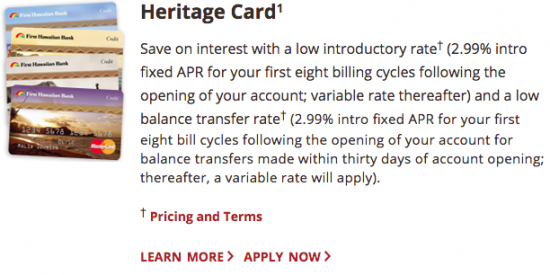 Step 2 – Before you get started, if you want to fill a joint application, click the click here link. Next, indicate if you would like to add your photo to the back of your card and select your card art from the four available options.

Step 3 – Now you can start filling out your application by providing the following information:
Full name
SSN
Date of birth
Complete home address
Citizenship/Resident status
Time spent at current address
Home phone and cell phone number
Email address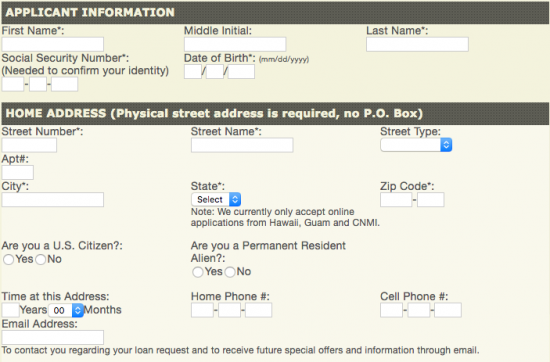 Step 4 – If you have a mailing address which is different from your home address, enter your complete address into the indicated fields of the Mailing Address section. Otherwise, skip ahead to the next step.

Step 5 – Next, you are asked to supply the following employment information into the appropriate fields:
Employment status
Name of your employer
Position
Length of time in current line of work
Length of time at current job
Work phone number
Gross monthly income
Other non-taxable/taxable income (if applicable)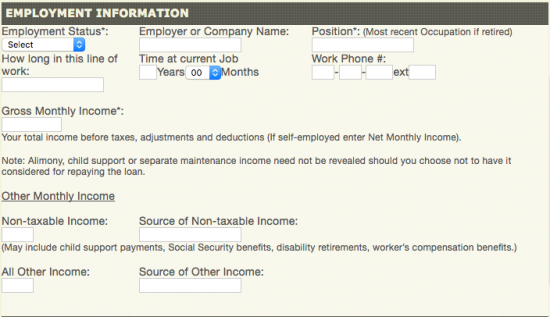 Step 6 – Now, provide the housing information listed below into the indicated fields before you continue to the final step.
Monthly mortgage payment
Monthly rent payment
Promo code(if applicable)
United MileagePlus number (if applicable)

Step 7 – Now that you have finished fill out your application, all that is left to do is read the terms and conditions and agree to them by clicking the checkbox found next to the disclaimer beneath the terms. When you're ready, click Submit.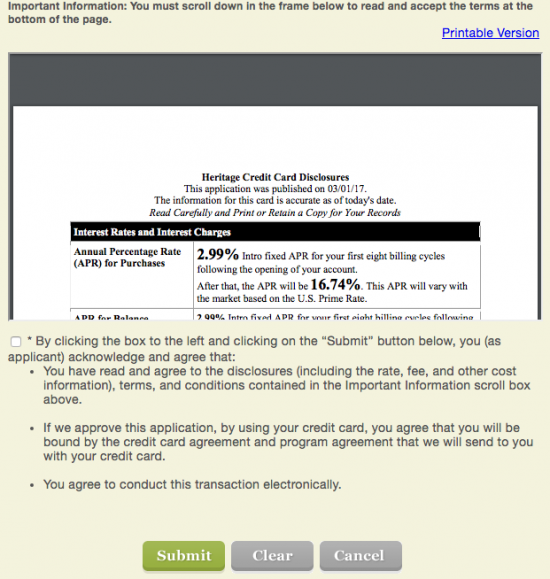 Your application is now officially submitted for review by First Hawaiian Bank! Click Done to exit your secure online application.

Congratulations on working your way through the application process! You can expect a response regarding your application within 3 business days. We hope that you have found our guide to be helpful and we thank you for visiting Card Reviews.