The FSG Secured Visa Credit Card is offered by Visa and FSG Bank, a bank based in Tennessee. Their Secured Visa Credit Card is aimed at those trying to rebuild their credit history. Because potential cardholders pay an upfront balance on the card, few get denied, and many end up improving their ailing credit rating.
In order to learn how you can login to your FSG Secured Visa Credit Card online account, read the following instructions. Before getting started, remember to read the FSG Bank Privacy Policy.
How to Login
To login to your FSG Secured Visa Credit Card, first go to this page. Look for the "Login" box in the upper left corner. Input your Personal ID in the empty field and click "Continue". After entering your password, you can make payments on your account, see your transactions history, and order a new card if need be.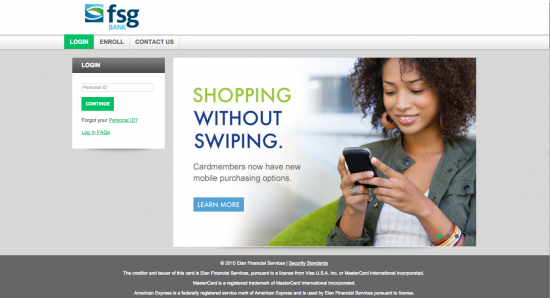 Activation/Registration
Activation #: 1-800-558-3424
If you currently lack a Personal ID, it is because you haven't activated and registered your card. If you need help at any time, give a call to the number listed above and ask any questions you might have to the customer service representative.
To get started activating your card online, click "Enroll" next to "Login" on the login page here.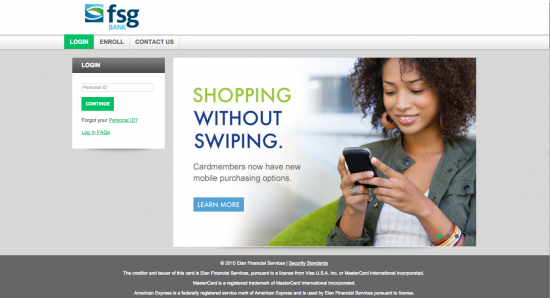 Prepare to fill out a form. The beginning of the form requires you to enter the following info:
Your FSG Secured Visa Credit Card account number
Your security code
The ZIP code associated with your card
The last 4 digits of your social security number (for security purposes)
Now you must determine what your Personal ID will be. Keep in mind it must be 7-22 characters in length. Enter it twice for confirmation. Also decide your password. Enter that twice, too.
Finally, after entering your email address, click "Submit". Your card is now activated and ready to manage online.