If you have navigated to this webpage, you are most likely interested in acquiring the PenFed Premium Travel Rewards American Express Card. In the tutorial below, you will find instructions on how to apply for this card using the secure PenFed Credit Union online portal. Before you scroll down to our guide, let's take a moment to go over some of the great features that are included with this card. For instance, you will receive a 0% introductory APR for the first 12 months on all balance transfers. Your APR for purchases will be somewhere between 10.24% to 17.99% (depending on your creditworthiness) which is a very competitive rate compared to some of the other cards on the market (APR is subject to change). The rewards program is where this card shines by providing cardholders with 5 points for every $1 spent on airfare and 1 point for every $1 spent on all other purchases. With a plethora of bonuses and a rewards program that greatly benefits frequent fliers, the PenFed Premium Travel Rewards American Express Card is a worthy credit option. Scroll to find out how you can apply.
Take a moment to review PenFed's privacy policy before supplying any personal information into their online portal.
Requirements
You must meet the following requirements in order to be eligible for this card:
You are at least 18 years of age
You have a valid SSN
How to Apply
Step 1- Applicants must begin by navigating to this webpage. In the middle of your screen you will see the Apply Now link. Click on the link to proceed.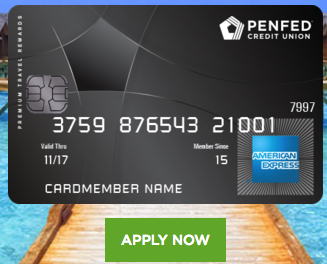 Step 2- Select Yes or No to indicate whether you are applying for this credit card with another person (join applicant). For the purpose of this tutorial, we will be applying without a joint applicant. Click Join Now after making your choice.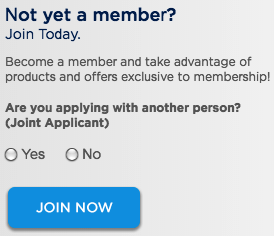 Step 3- The next page requires you to supply your First Name, Last Name, Birth Date, Email Address, and Phone Number. Click Continue after everything has been entered correctly.

Step 4- On the next page, your full address will be required as well as your Residence Status and your Monthly Mortgage or Rent payment totals. Use the drop-down menus to specify the amount of time you have been living at your address.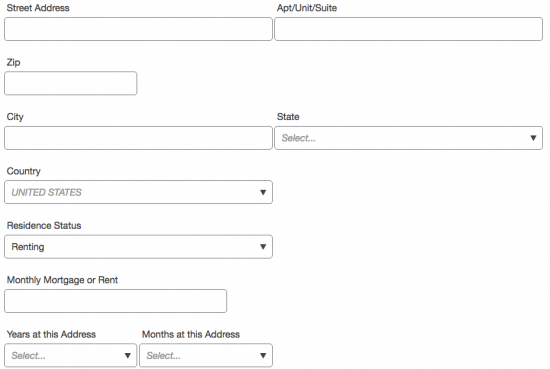 Step 5- Indicate your Employment Status by choosing one of the options from the drop-down menu. If you are employed, you will need specify the amount of time you have been working for your current employer as well as your Employer/Business Name and Employer/Business Address. Below that, enter-in your Gross Monthly Income and your Social Security Number.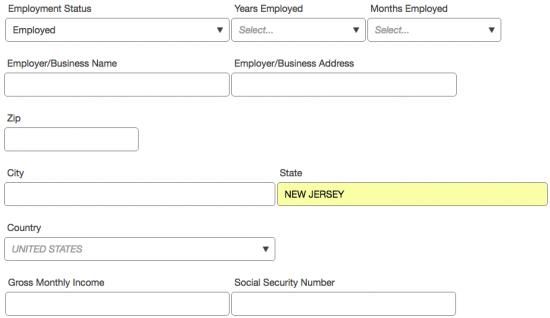 Step 6- Select Yes or No to let PenFed know if you have any additional income. If yes, provide your Other Monthly Income, the Source of Other Income and your Total Monthly Accessible Income.

Step 7- Review the conditions described in the Credit Report Authorization and Credit Card Account Authorization text windows. Be sure to read over the terms and conditions for this credit card as well. If you agree to PenFed's policies, check both of the I Agree boxes to indicate your compliance.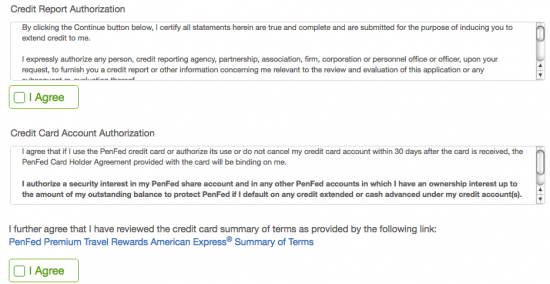 Step 8- Select the green Continue tab located at the bottom of your screen to proceed and your application will be sent in for review by the PenFed Credit Union.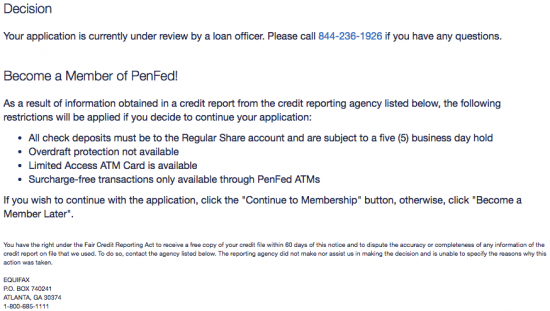 Congratulations on making it through the application procedure. We hope you found this tutorial helpful in your attempt to apply for this credit card. Good luck and take care!