The Philadelphia Eagles Extra Points Credit Card is issued by Barclays Bank Delaware, therefore, you can access your account through their online banking portal. This online banking service allows users to manage their credit card account as well as access a host of financial tools. The only information asked of you in order to sign up is your account number and social security number, and, once created, your account can be accessed anywhere, from any computer or mobile device. If you're a bit intimidated by the enrollment process, we have created a short tutorial below so you can learn how to register for an account. We will also provide instructions on how to activate your credit card and log into your online banking account, once you have enrolled for one.
We suggest reading through Barclays Bank Delaware's privacy policy before providing them with any personal or financial information.
How to Login
Navigate to the Barclaycard home page and locate the Cardmember Login area. Type your username and password in the appropriate fields then click Log in. If your credentials were entered correctly, you now have access to your online banking account.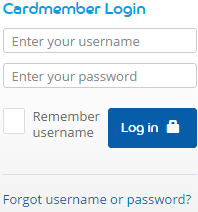 If you can't remember your username or password, click on the Forgot username or password? link below the login button. You are asked to verify your identity by providing the Last 4 digits of your social security number, Date of birth and Account number. Click Continue to recover your account.
Activation/Registration
You won't be able to make any purchases with your Philadelphia Eagles Extra Points Credit Card until you have activated it. You can call the number on the back of your card, or use the number we have provided above, to activate your card. Once the activation process is complete, click on the Secure Registration link to set up your online banking account with Barclays Bank Delaware. The registration process doesn't take very long, simply provide the following information to verify your identity:
Last 4 digits of social security number
Date of birth
Account number
U.S. citizenship
At the bottom you are asked to create a username and password. Click Continue and you will be successfully enrolled in an online banking account. Enjoy!