After you have acquired the PNC Core Visa Credit Card and it has been activated, it will be possible to create an online account through which you can manage your card. Below we have provided an instructional guide which will take you through the simple process of creating your account and logging into the online service. You will then be able to use your account to review your payment statements, update your personal information, pay balances and perform a number of other tasks from the comfort of your computer or other mobile device. Follow our guide below and your account will be up and ready to use in no time.
Make sure you review the PNC privacy policy before submitting any sensitive information online; it is important to know how the information you supply will be used.
How to Login
To access your online banking, you will need to log into your account. Begin by navigating here to access the online portal and enter your User Id into the available field found within the Login tab. Click Login to continue.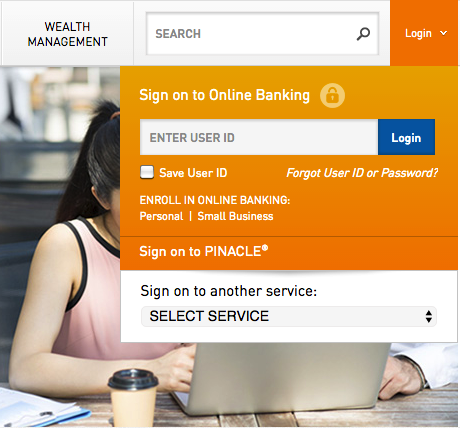 You may be required to provide the answer to one of your security questions. If so, a page will be displayed similar to the one shown below. Enter your answer into the field and select Yes or No to indicate whether or not you are currently on your home computer. Click Continue and you will be taken to the final stage of the login procedure where you will need to supply your password. With these pieces of information supplied, you will be able to access your online banking.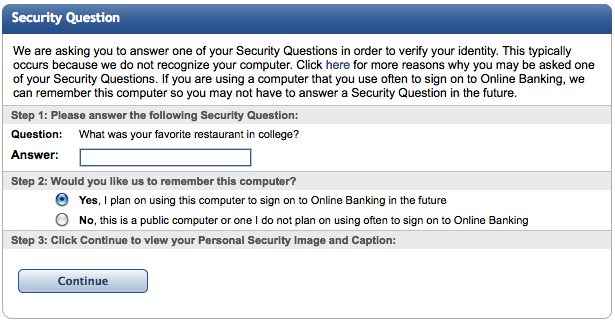 If for any reason you forget your password, you will be able to reset it by first clicking on the Forgot User ID or Password? link located in the main login menu. On the following page, select the Start Reset Password tab to proceed.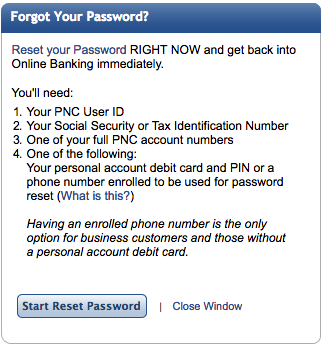 Enter your Online Banking User ID, SSN and Full PNC account number before clicking Next. The following pages will provide you with the ability to reset your password.

If you have forgotten your user ID, click on the Forgot User ID or Password? link found within the main login menu. On the next page, select the contact us link located in the Forgot Your User ID? menu to be provided with a phone number which you can call for assistance (1 800 762 2035).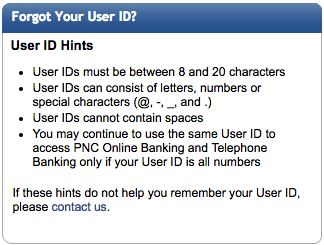 Activation/Registration
In order for you to be able to register your card for online banking you will need to have it activated. To activate, call the number located above and speak to a customer service representative. After your card has been activated, click on the Secure registration link found next to the activation number. On the page that pops up, click Get Started.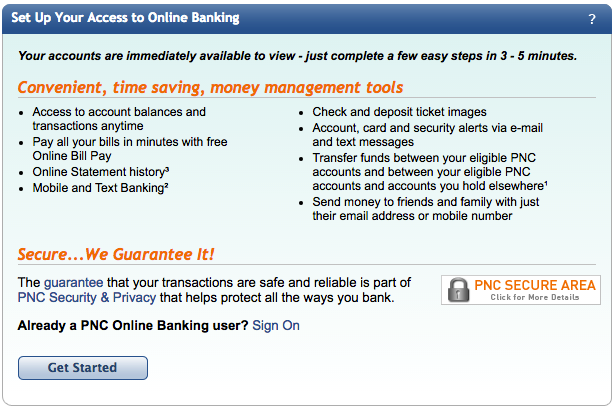 Next, you will need to enter your SSN, Visa PIN or Online/Telephone Banking Account Access PIN, and your PNC Account Number. Click Next and the pages that follow will have you creating a user ID and password for your account as well as choosing security questions to be used in the event that you forget your login credentials. Your account will be ready to use once you've completed all of the above steps. Best of luck!