For college students, the Pulaski Bank College Rewards Visa Card is a pretty decent credit card to start building your credit with. For no annual fee, cardholders enjoy a basic rewards program of 1 reward point for every dollar spent on all eligible purchases. The APR has a fairly wide range of 12.24% to 23.24% creditworthiness (APR is subject to change). Therefore, the APR that one qualifies for will greatly influence the attractiveness of this card. Within our tutorial, we have provided instructions on how to apply for the Pulaski Bank College Rewards Visa Card​ online. If you're ready to commit to this credit option, or you're curious about what the requirements are, scroll down to review our step-by-step guide.
Elan Financial Services (EFS) issues these cards on behalf of Pulaski Bank, so it would be wise to look over the EFS privacy policy before continuing.
Requirements
Applicants must meet the following requirements:
You must be 18 years of age
You must be a US citizen
You must have a valid SSN
How to Apply
Step 1- Go to the Pulaski Bank credit card homepage by clicking here. Navigate to College Rewards Visa Card and click Apply Now.

Step 2- Once on the application form, begin filling it out by providing the following Personal Information:
First name
Last name
Date of birth
SSN
Country of citizenship
Country of permanent residence
Primary phone number
Mobile phone number
Email address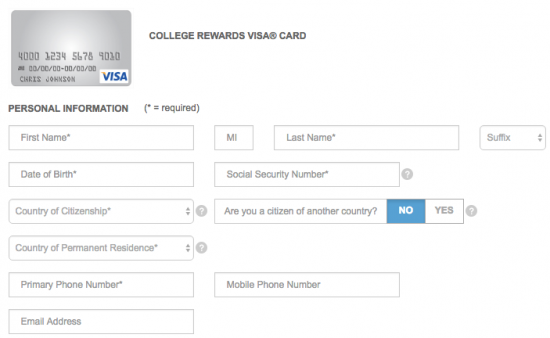 Step 3- Next, input the following Housing Information as required:
Street address
City
State
ZIP code
Time at address
Housing status
Monthly payment
Alternate mailing address (if applicable)

Step 4- Following the housing information section, supply all of the Income and Employment Information listed below. You must also indicate any accounts that you have with Pulaski Bank ​ by selecting Yes beside the applicable options.
Employment status
Employer
Occupation
Annual income
Other income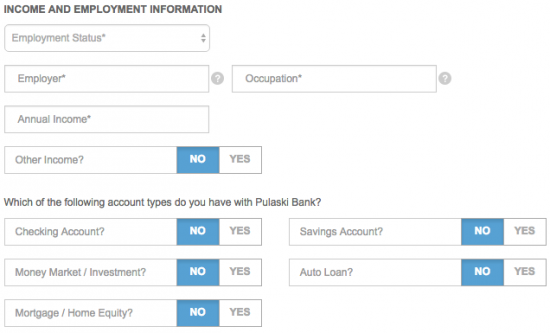 Step 5- Next, indicate whether you would like to perform a balance transfer before providing your Type of School and Expected Graduation Date.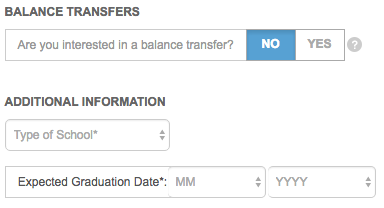 Step 6- Finally, read and agree to the Terms and Conditions for this card. When you are ready, click Submit.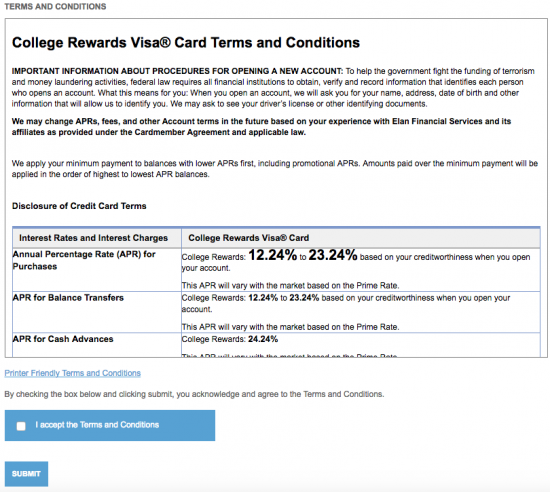 Your application is complete! You should receive a response shortly. From all of us here at cardreviews.org, good luck!