Stanford Federal Credit Union (SFCU) offers a wide range of credit card options for their staff, alumni, students and family members thereof. If you're looking for a simple credit card with low fees and an average APR, one option is the Stanford Federal Credit Union Classic Visa Credit Card. The best thing about this card is the lack of fees. While there is still interest attached to the offered services, you won't pay a cash advance fee, a balance transfer fee or a foreign currency exchange fee. You don't even have to pay an annual fee! This card comes with a basic rewards program, where points are redeemable only for travel purchases and merchandise. Users will earn 1 point per $1 spent, with a maximum of 150,000 possible points per year and an expiration date located 2 years after points have been accumulated. The APR for this credit card is 17.99%, which applies to purchases as well as balance transfers and cash advances (APR is subject to change). If you're a student or affiliate of Stanford University and are interested in applying, follow our short tutorial below and apply for the Stanford Federal Credit Union Classic Visa Credit Card today.
To learn how SFCU will use your personal or financial information, take a look at their privacy policy before filling in the application form.
Requirements
To be eligible for this credit card, applicants must meet the following requirements:
Applicants must be 18 years of age or older
Applicants must have a valid US address
Applicants must have a valid Social Security number
Applicants must be a member or affiliate of Stanford University
How to Apply
Step 1 – Follow this link to access the SFCU application page. Click the first link labelled "here" to apply for a new loan.
Step 2 – At this juncture, you can choose which type of loan you're applying for. In this case, you're applying for a credit card, so click the Credit Cards tab on the left then the Apply Now button to proceed.

Step 3 – The first section of the application form asks for your First Name, Last Name, Social Security Number and Member Number. If you do not have a member number, un-check the box beside Is Member and then select your affiliation from the drop down menu provided below that. Click Submit once you have provided all this information.

Step 4 – The main part of the application form includes a series of blank spaces for you to provide some personal and financial information. Not all of it is mandatory, but the more information you provide, the more thorough SFCU can review your application. The necessary fields you need to fill in include the following:
Marital status
Email address
Physical address
Start date (day you moved in)
Status (rent, own, etc.)
Home phone
Work phone
Employer
Title (of current work position)
Amount and frequency of payment
Start date (day of hiring)
Click Next once you have complete this section of the application form.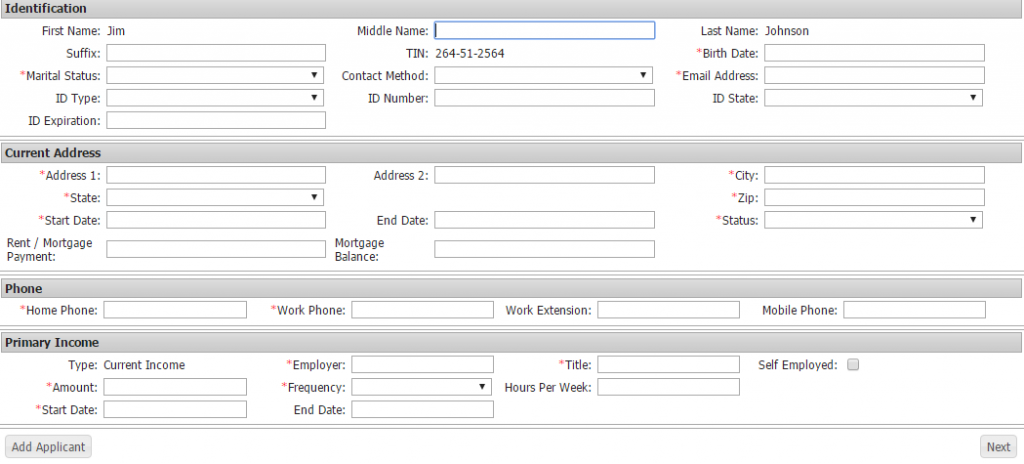 Step 5 – Next, you can provide the Requested Amount you wish your credit limit to be as well as the Purpose of this card. At this point in the process, you can choose your Card Type and, if you wish, pick a Card Design for your new credit card. At the bottom of the page is where you will authorize SFCU to obtain credit reports and verify the information on your application. Tick both boxes once you have read and agreed to the terms and conditions. Click Submit to send your application in for review.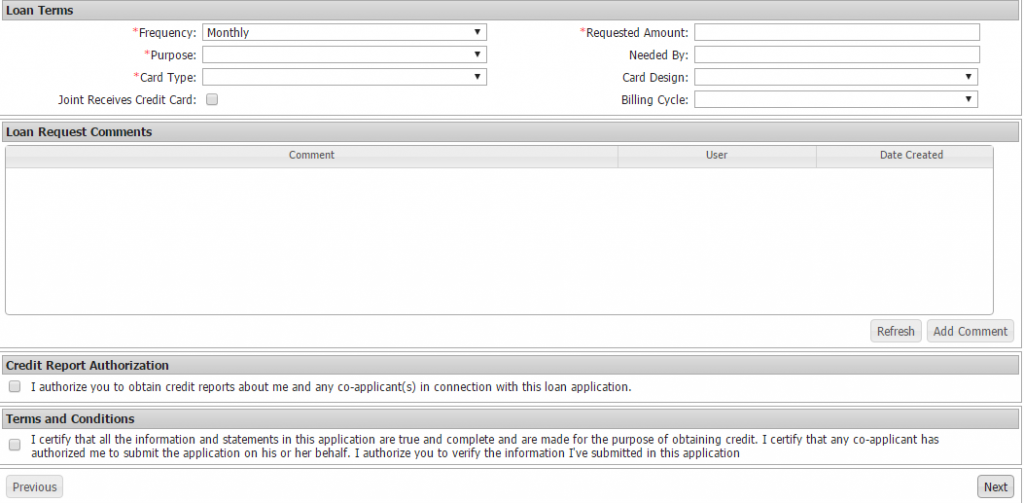 Congratulations! You have successfully applied for the Stanford Federal Credit Union Classic Visa Credit Card. All you have to do is sit back and await your approval, it shouldn't take too long at all. We hope that our instructions were able to assist you in navigating through the application process with relative ease. Best of luck!