The TD Aeroplan Platinum Visa Credit Card, the flagship card of the Aeroplan series, is a card fit for those individuals who can support annual fees in the interest of larger overall savings. If you are one of these individuals and are looking to manage this behemoth of a card online, look no further, for we have created a unique login guide available just below to elucidate the process. Cardholders will be able to fully manage their account once logged in, including paying statements and adjusting personal information.
All cardholders should be familiar with the TD Online Privacy Policy in order to know fully how your information is handled once it has been submitted to the TD system.
How to Login
The login fields can be found on this webpage. Navigate to the page and, once there, enter your username/access card # and your password to login.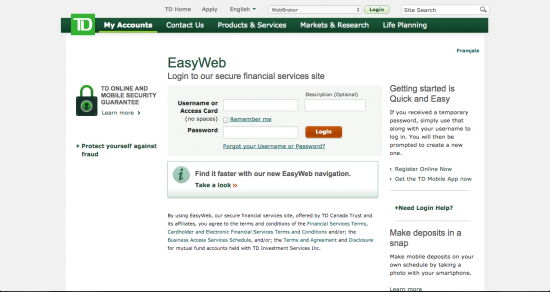 If you have lost or forgotten this oh-so vital information, select the Forgot your username or password? link and work through the subsequent webforms to retrieve the information promptly.

Activate
If you would like to activate by phone you can always do so by calling 1-800-983-8472. Activating online requires the creation of an account. Do do this, follow the link above and fill out the subsequent forms. Once created, you will be able to link your card to the account and manage it online.