The Bangor Savings Bank Visa Signature Bonus Rewards Credit Card is a fairly average rewards oriented credit card. It has a $0 annual fee and offers meagre returns of rewards points on purchases made with a return of 1 point for every $1 spent. This is great card for individuals that are looking for a no-hassle card that can be used to earn reward points that can be exchanged for gift certificates to favorite retailers. While we do not recommend these types of cards due to their fluctuating APR (based on the market prime rate), this card has no other hidden fees or anything that could potentially be troublesome. If you are interested in applying for the Bangor Savings Bank Visa Signature Bonus Rewards Credit Card online, simply scroll down this page and you will find a step-by-step guide that will walk you through everything you need to know about completing the online application process.
We feel it is vastly important that our readers review the online privacy policy so that they completely understand how their personal information is going to be used and protected throughout the application process.
Requirements
To successfully complete the application process, users must:
Be 18 years of age or older
Reside in the United States of America
Have a valid Social Security Number
To begin, navigate to the credit card information page.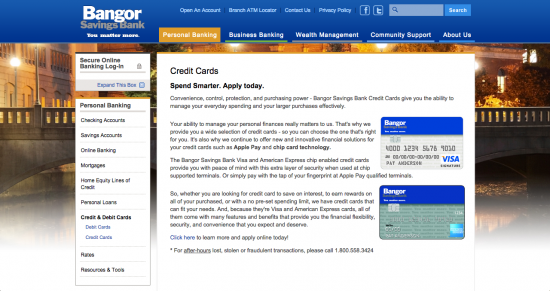 How to Apply
Step 1: Apply Online Today
Click the Click here link at the bottom of credit cards information page to begin the application process.

Step 2: Leaving Bangor.com
Click Continue to acknowledge you are aware that you are leaving the Bangor Savings Bank homepage.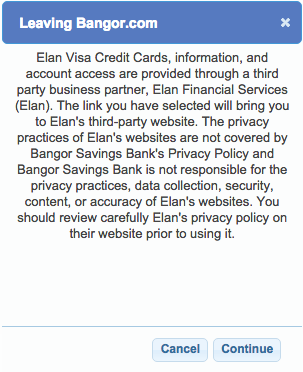 Step 3: Navigate Landing Page
Click the Apply Now link under the "Visa Platinum Card" heading.

Step 4: Personal Information
Enter the following personal information:
First and Last name
Date of Birth
Social Security Number
Primary phone number

Step 5: Housing Information
Enter the following housing information:
Street Address
City
State
Zip Code
Time at address
Housing status
Monthly payment

Step 6: Income and Employment Information
Enter the following income and employment information:
Employment Status
Annual Income
Whether you have other income or not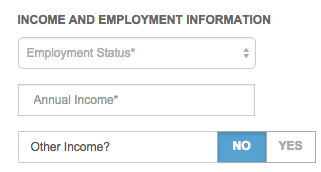 Step 7: Designate Account Types
Select the account types you currently have with Bangor Savings Bank out of the following options:
Checking
Savings
Money market/investment
Auto loan
Mortgage/Home Equity

Step 8: Additional Cards
Enter the following information regarding additional cards:
Whether this is a joint application
Whether you want to add an additional authorized user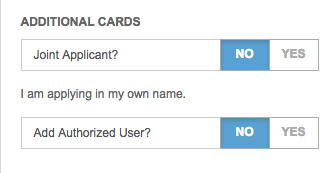 Step 9: Terms and Conditions
Review the terms and conditions and click the empty box if you agree to them.

Step 10: Submit
Click the Submit button at the bottom of the page.
Once all of these steps have been completed you will have completed your application for the Bangor Savings Bank Visa Signature Bonus Rewards Credit Card.