The Bangor Savings Bank Visa Business Bonus Rewards PLUS Card is one of two points-based rewards credit cards offered at Bangor Savings Bank. This bank has partnered with Elan Financial Services (EFS) to provide their clients with the best possible credit cards. It is therefore through the secure and trusted EFS website that you will be applying should you decide to commit to this particular credit option. The business Visa offers a standard rewards program of 1 point per dollar spent, and it gets its name from the 50% bonus on all points accumulated over the course of a billing cycle (30 days). The price you pay for this is $50, which must be provided on a yearly basis. All in all, it is a fairly average business credit card with a run-of-the-mill rewards program and an APR so flexible that it's impossible to say whether it's good or bad. If you have good credit, this card is great. If you have bad credit, maybe look elsewhere. For those of you interested in applying for this credit card online, scroll down and we'll walk you through the process.
To find out how Elan Financial Services collects and protects/shares the information you provide in their application and otherwise, take a look at their privacy policy.
Requirements
The following must apply in order to be eligible for this credit card:
Be 18 years of age
Have a U.S. address
Have a valid Business Tax ID
Have a valid SSN
How to Apply
Step 1 – To get to the online request form, find your way to the Elan Financial Services card summary page for Bangor Savings Bank credit cards (linked here). Scroll down to the Business Credit Cards section and select the Apply Now link under the Bonus Rewards PLUS Card option.

Step 2 – On the apply page, the first thing they're going to ask of you is the general information pertaining to the business in question. Submit the following data into the fields in this section before continuing:
Business name to appear on cards
Business name
Business tax ID number
Complete business address (city, state, ZIP code)
Alternate mailing address (if applicable)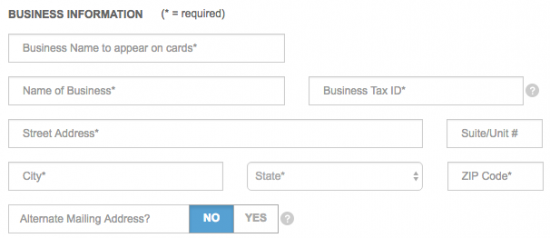 Step 3 – Continue by submitting the following information:
Years at current business address
Year business was started
Legal structure
Nature of business
Type of industry
Country of formation
Number of countries with offices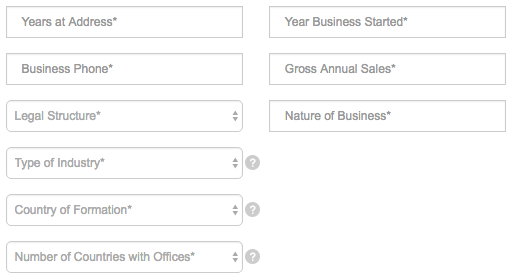 Step 4 – If you want cash access to your account, giving you access to convenience checks and cash advances, select Yes in the drop down menu. If not, elect No. Then, let the bank know which accounts you currently have with them by selecting Yes where applicable.


Step 5 – Information on the Business Owner must be submitted at this point in the application. You will need to provide the following before continuing on to the remainder of the application:
Business owner type
Full name
SSN
Date of birth
Phone number
Email address
Complete mailing address (city, state, ZIP code)
Alternate mailing address (if applicable)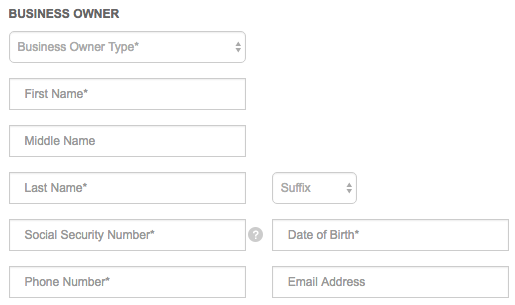 Step 6 – Here you must submit your Annual Income and your Ownership Percentage. If you happen to be a current or former domestic senior political officer or a family member/close associate of one, select Yes here.

Step 7 – You have the choice of electing to perform a balance transfer to this card. If you're interested in doing so, select Yes where applicable and provide the requisite information. Select Yes under Beneficial Owners if there are other owners of the company with a 25% stake or greater. Finally, if you'd like to add employee cards, indicate that this is so here.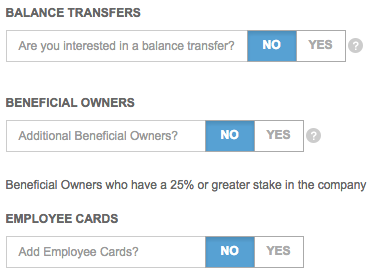 Step 8 – Take another look at the terms and conditions to double check that you're okay with all the fees, percentage rates and other fine print details held within. When ready, check the box to indicate that you accept the Terms and Conditions. To submit your application to be reviewed by EFS, click Submit.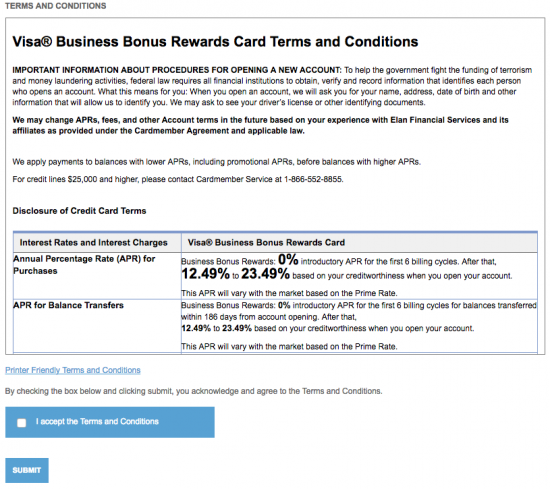 Now all you need to do is sit back and relax while you wait for your results to come in. We wish you the best of luck with the outcome of your application and we'd like to thank you for visiting CardReviews.org today to help you with the process. Happy banking!