If you are a Wisconsin business owner, a Dairy State Bank account holder and in need of a credit card which offers a number of management benefits, you need not look any further than the Dairy State Bank Visa Business Bonus Rewards Card or the Dairy State Bank Visa Business Bonus Plus Rewards Card. These cards don't only offer a 25%(bonus) or 50% (bonus plus) monthly bump on a 1 point/$ spent reward system, competitive APR and a nice sign up bonus; they also allow for a wide range of benefits detailed on their benefit summary page here. If this is enough to have you convinced, please, scroll down, and we'll guide you through the application process.
We highly recommend looking over Elan Financial Services' (Dairy State Bank's secure card handler) privacy policy before submitting any sensitive information.
How to Apply
The application for a Dairy State Bank credit card is simple and can be accessed through the card summary page of each card on the Elan Financial Services website (Bonus, Bonus Plus). Select the Apply Now option to begin your secure application.
You will be required to enter in information pertaining to your business. This will include:
Business Name to appear on Cards
Name of Business
Business Tax ID
Street Address
City
State
Zip Code
Years at Address
Year Business Started
Business Phone
Organization Type
Gross Annual Sales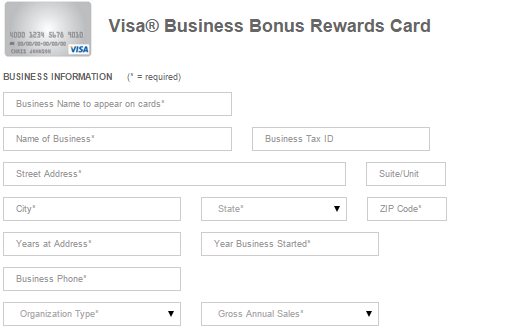 Step 2- Cash Access
They will then ask you if you want cash access. If you read over the terms and conditions, you'll notice that the APR on cash advances is significantly higher at 23.99%.

Step 3-Accounts
If you have other accounts with Dairy State Bank, select them below.
Step 4-Business Owner
You will then need to enter the following personal information:
Business Owner Type
First Name
Last Name
SSN
Date of Birth
Phone Number
Annual Income
Email Address
Home Street Address
City
State
ZIP Code
Whether or not you have an alternate Mailing Address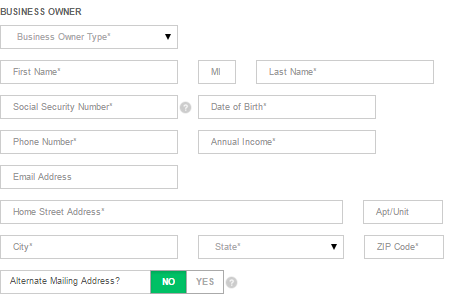 Step 5-Employee Cards
You will now have the opportunity to add Employee Cards. If you wish two, you'll be required to fill in the necessary information about each employee.

Step 6-Terms and Conditions
Be sure to read over the terms and conditions, if you agree with them, select the check box next to I accept the Terms and Conditions to finish the application process. That's all, congratulations!