If you've just opened the envelope containing your new Dairy State Bank Visa Business Bonus/Bonus Plus Rewards Card, you'll come to notice that it is most functional after activation. Also you're going to want to register for an online account with Dairy State Bank, as well as log in to your account in order to take full advantage of modern banking. This includes making payments online, reviewing past statements in the comfort of your own home, updating any personal information and more! You are not alone if this process confuses you, which is why we've dedicated the page below to those seeking guidance through this process. Scroll down for further information.
Before entering any information into a website of this kind, we recommend reviewing their privacy policy first.
How to Login
To access the online banking services Dairy State Bank has to offer, navigate to their homepage and enter in your Access ID (username) before clicking Go.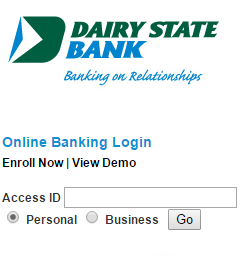 On a subsequent page, they'll ask you for your password.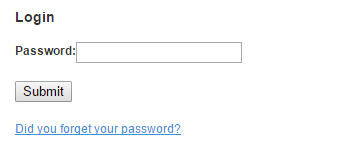 If you've forgotten your password, click on Did you forget your password?. They will take you to a secondary page where you'll only need to fill out the fields specifying your Access ID, Last 4 Digits of TAX ID Number, Email Address before selecting Submit. You can then retrieve your new password in the inbox of the email account registered with this account.
Activation/Registration
Activation #: 1 (800) 646-0172
To activate your new card, dial the number displayed above and speak to the customer service representative. For online registration, we've also provided the link above which will direct you again to the Dairy State Bank homepage. Once there, select the Enroll Now option above the Access ID field.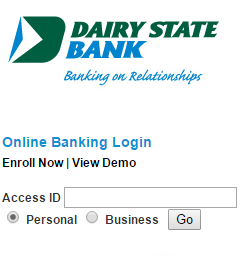 You will be present with the window below. Be sure to enter in all the necessary information before clicking Submit. The following pages will have you selecting further security credentials before completing the registration. Good Luck!