The Bloomingdale's Credit Card is not only a valuable credit card for the loyal customers of Bloomingdale's but it is also equipped with the ability to be managed in its entirety from the comfort of your own home. Once you have accessed your online account you can pay bills, review statement history, request additional cards, and update contact information without having to leave your own couch. If you or anyone you know is having difficulty using the online tools available, then scroll down this page and you will find a guide we have created for you that will explain not only the login process but the activation process as well.
We feel it is important that all of our readers review the online privacy policy so that they completely understand how their personal information is going to be used and protected.
How to Login
You will need to first access the login homepage, pictured below.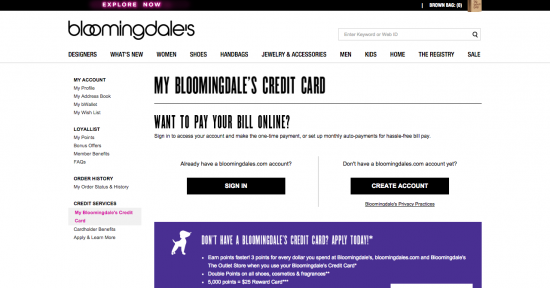 Then you will need to click the SIGN IN link.

Then enter your Email Addtress and Password and then click the SIGN IN button. If you have forgotten your login information, simply click the Forgot your password? link and you will be redirected to a retrieval page.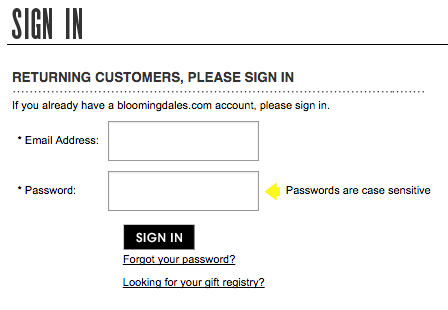 On the following retrieval page you will need to enter your e-mail address and click the SUBMIT button to begin the retrieval process.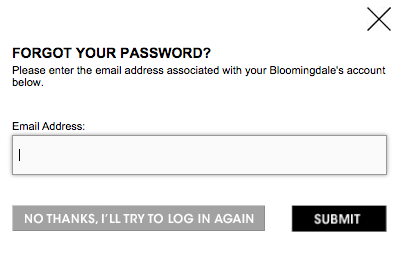 Activate
Activation phone number: 1-800-777-0000
In order to be able to use your Bloomingdale's Credit Card to make purchases you will first need to activate it. This can be done by either calling the activation phone number listed above or by clicking the Secure activation link, also listed above. If using the online method, you will then need to click the ACTIVATE CARD link on the ensuing page.

Click the CONTINUE button to confirm that you are aware you are leaving the bloomingdales.com website.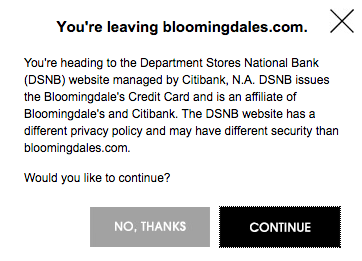 Verify your card information by entering the following information into the blank spaces provided and then clicking the VERIFY button:
Card number
Name as it appears on your card
Security code
Last 4 digits of the primary card holder's social security number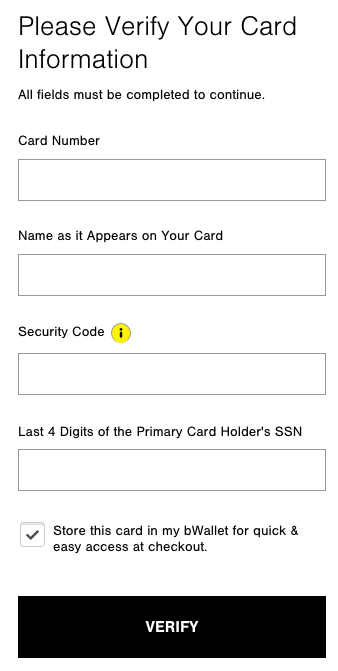 You have now completed the activation process for your Bloomingdale's Credit Card online account and are one step closer to managing your credit in the simplest way possible.