Individuals who are looking to manage their Chase Amazon Credit Card account can do so by logging in to their online profile. Cardholders that have already setup an online profile and activated their card can make payments on any outstanding balances by going to login homepage and logging in to their online profile. From their online profile, cardholders can make free online payments and manage many other aspects of their card, such as their billing address, the number of authorized users, whether or not paper statements will be used, and whether or not automatic payments will be used.
Before you continue on to the login guide we recommend that you take a moment to review the online privacy policy in order to be completely familiar with how your personal information is going to be handled throughout the login and registration processes.
How to Login
In order to login, you must first go to the login homepage, pictured below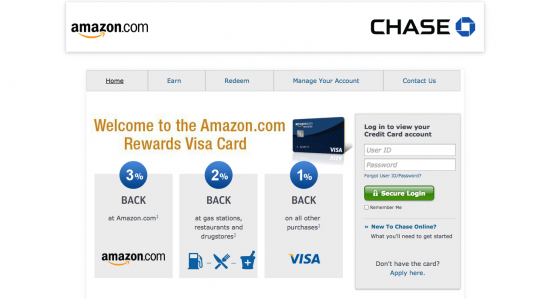 Once you have navigated to this page, enter your User ID and Password in the applicable fields. Just below the blank "password" field, there is a tick-box titled "Remember Me". If you check this box, your User ID and Password will be remembered on whatever computer or mobile device you are using to login in. This provides convenience during future logins, yet should never be checked on public computers in order to maintain security. To finalize the login process, click the Secure Login button.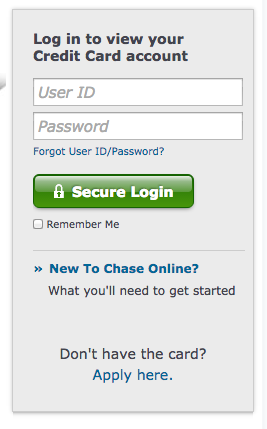 If you have forgotten or misplaced your login information you can retrieve it by first clicking the Forgot User ID/Password? link. On the following page your will be asked to select one of the two options for retrieving your personal information, and enter the required information. Once entered, click the Next button to begin the retrieval process.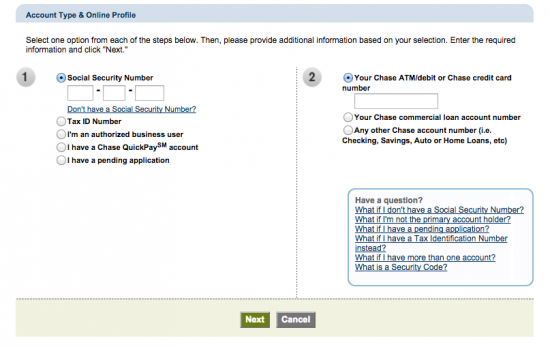 Activation/Registration
Individuals who have recently received their card in the mail will need to first activate their card online before they will be able to use it. Thankfully the activation process is the exact same process as setting up an online account, so if you have not done either you can streamline the process and accomplish your goals in a matter of minutes. Ensure that you have your new card and a valid Social Security Number readily available before beginning the activation process. To begin, either call the registration number provided above or click the Secure registration link. If using the online method you will need to click the New To Chase Online? link to continue.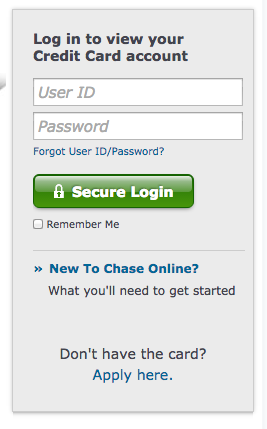 Once you have navigated to the activation page, input the following information in the applicable fields:
Chase Amazon Credit Card number
Social Security Number
User ID that you wish to use to when logging in to your online account
Take note of the guidelines for creating a User ID. This information is presented in an outlined blue box to the right of the blank User ID field.


Once all of your information is entered, click the Next button at the bottom of the page. There will be several more pages of information that you must review before you have fully activated the card, with each page requiring you to click a similar Next button in order to proceed. On the following pages, you will be required to create a password and review any necessary legal agreements. Once completed you will have setup an online account with which you can manage your Chase Amazon Credit Card safely and simply.