The Citi Double Cash Credit Card is perhaps one of the most lucrative rewards cards out there. Offering double cash back and no annual fee, the card can be used to rack up great rewards balances if used often. Whether you've just recently become a Citi Double Cash Credit Card cardholder or you've had one for a long time, this article will outline how you can login to your account and how you can register and activate your card.
Keep in mind that the Citi Bank Online Privacy Policy is an extremely useful resource to find out where your information is being shared and why third parties are using it.
How to Login
Logging in to your Citi Double Cash Credit Card online account renders the user able to manage their account by paying for transactions, checking on their cash back rewards, and editing important details like billing address. To login, go to this page.
In the grey box on the left, enter your User ID and password. For easier access on return visits, tick the box beside "Remember my User ID". Click "Sign On" when you are ready. The next page you will find yourself on is your own personal account. Here is where you can manage your account as outlined above.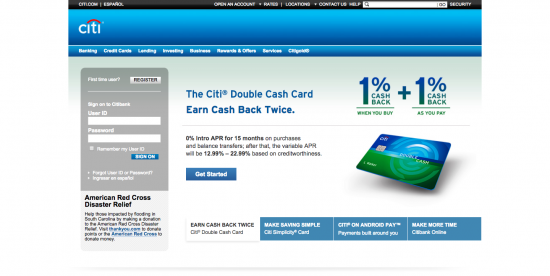 Registration/Activation
Activation #: 1-800-347-4934
If you don't have a User ID or password and you've never managed your account online before, click on the "Secure Activation" link above to get started registering your card.
Alternatively, click the "Register" button next to "First time user?" on the normal login page.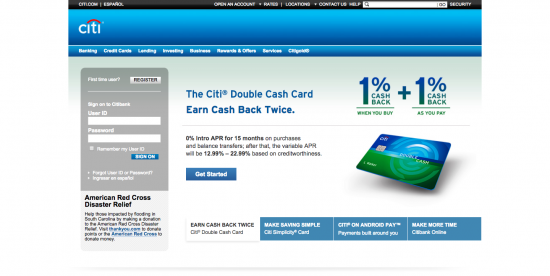 Next, select your account type in the drop-down list.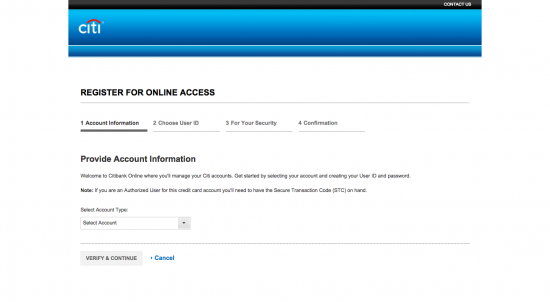 You want to choose "Credit Card Account".

Next indicate whether or not you are the primary cardholder for your Citi Double Cash Credit Card account. Now, enter your:
Credit card number
Name as it appears on your card
Security code (found on the back of the card)
Primary cardholder's last 4 digits of their social security number
Click "Verify and Continue" and, after reading some security information and choosing your User ID and password, you are all ready to use your Citi Double Cash card online. Follow the instructions above under "How to Login" to access your account next time.