If a walk down the aisle is in your future, a David's Bridal credit card can be a convenient way to pay for some of your wedding essentials. This store credit card is issued by Comenity Bank.
Requirements
To receive a David's Bridal credit card, you must:
Be at least 18 years of age
Have a valid government-issued photo ID
Have a U.S. Social Security number
How to Apply
Step 1 – Visit the David's Bridal credit card application page. This introductory screen explains some of the credit card's benefits and requirements.
Decide if you want to open an individual account or a joint account and click on the appropriate button to begin. For the purpose of this tutorial, we're assuming you want an individual credit card account.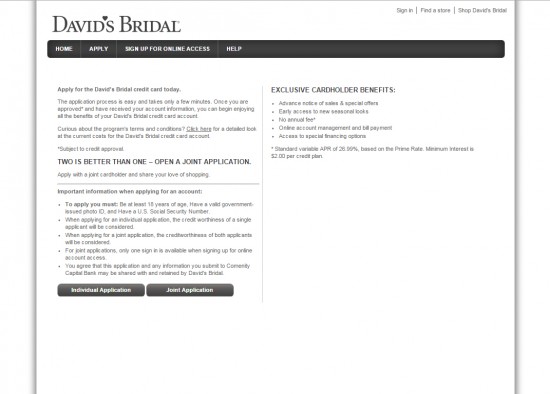 Step 2 – In the Personal Information section, enter your full legal name, Social Security number, and date of birth.
In the Address Information section, enter a street or rural route address. You can't apply for a David's Bridal credit card using a PO Box as your address.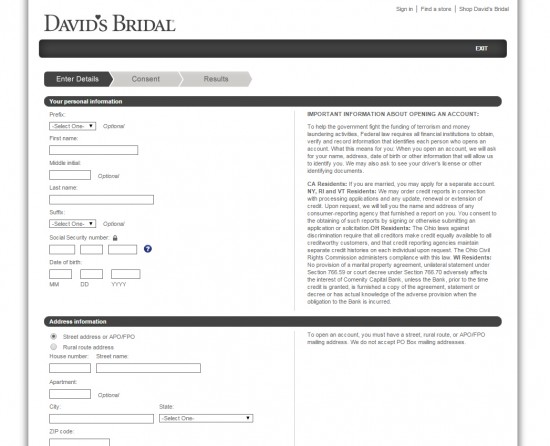 Step 3 – In the Contact Information section, provide a home phone number and an optional work phone number. Enter and confirm your preferred email address.
In the Add Authorized Buyer section, you have the option to authorize another person to make charges to your account. if you want to add a second buyer, click the "Yes" button and provide their full name and relationship to you.
Click on the grey "Continue" button to be taken to the card's terms and conditions page. Read and save or print the document, then submit your application for final credit approval.