David's Bridal knows that planning a wedding can be stressful. To make your day a little easier, the company offers a website that lets you manage your credit card at a time that best fits your busy schedule.
How to Login
Step 1 – Visit the David's Bridal online account management center. Provide your username and password. Click on the grey "Sign in" button to continue.
Click on the "Forgot your username or password?" link for help recovering your login credentials.
If you're managing your account with your smartphone, click on the "mobile site" link in the lower left hand corner for easier viewing.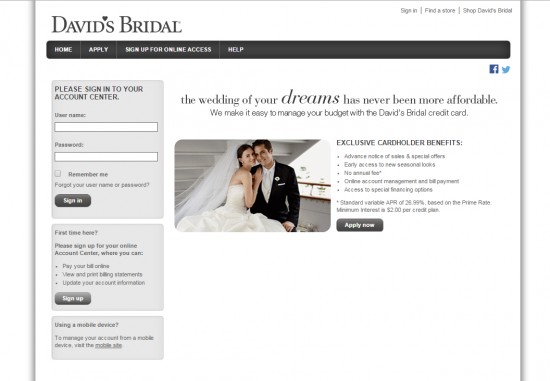 Make a Payment
The David's Bridal credit card account center lets you easily check balances, sign up for electronic statements, view recent activity, update personal information, pay bills, and handle other necessary card management tasks. It's a convenient way to make wedding planning a little less stressful!
Activation
If you're a first-time visitor to the David's Bridal site, you'll need to create an account to view your credit card information. Click on the grey "Sign Up" button on the main page.
On the registration page, you'll need to verify your card information, create login credentials, authorize the system to remember your device if desired, and enroll in optional paperless statements.