Taking advantage of HSN's great deals is already very convenient. Make things even easier for yourself by managing your HSN credit card account online.
How to Login
Step 1 – Visit the HSN online account management center. Provide your username and password. Click on the blue "Sign in" button. If you're managing your account via your cell phone, click on the "mobile site" link in the lower left hand corner for easier viewing.
Click on the "Forgot your username or password?" link for help if you need assistance recovering your login credentials.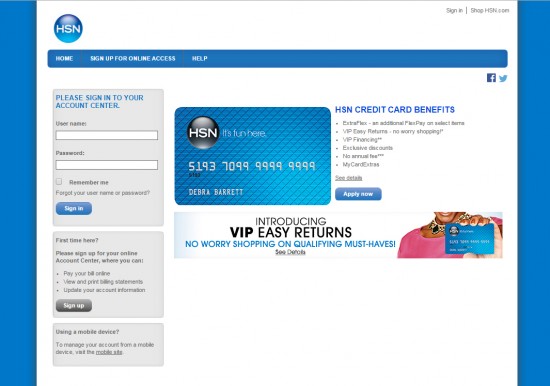 Make a Payment
Once you've logged into the HSN account center, you'll be able to check your credit card balance, pay your bill, update personal information, and handle other necessary card management tasks.
Activation
Using the HSN account center requires you to complete a short card registration process. Click on the grey "Sign Up" button on the main page.
This will take you to a screen with registration options. You'll need to verify your card information, create login credentials, and authorize the system to remember your device if you're using a secure personal computer or your smartphone. You'll also be given the option to enroll in optional paperless statements.