You can check your Loft credit card information from any computer by going to the company's secure website. However, to take advantage of the service, you'll need to register your account, create a unique username, and choose a password.
How to Login
Step 1 – Visit the Loft online account management center. Enter your username and password. Click on the pink "Sign in" button.
If you've forgotten your login credentials, click on the "Forgot your username or password?" link for help.
If you're viewing the site on your cell phone, click on the "mobile site" link in the lower left hand corner for easier viewing.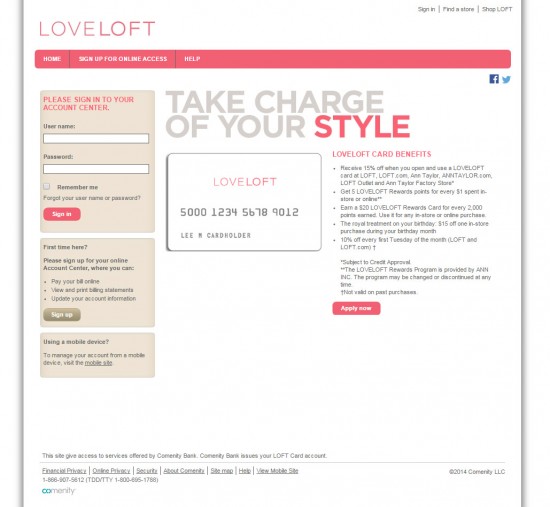 Make a Payment
The Loft account center allows you to check your balance, pay your bill, sign up for electronic statements, view recent activity, update personal information, and handle other key card management tasks at a time that best fits your busy schedule.
Activation
If you're a first-time visitor, click on the "Sign Up" link on the main page. This will take you to a screen with options to create an online account. You'll need to verify your card information, create login credentials, authorize the system to remember your device if desired, and enroll in optional paperless statements.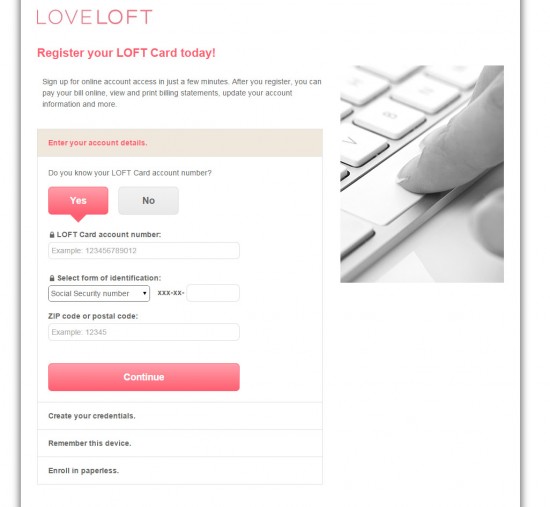 How-to Video
[youtube]http://youtu.be/B6lcTdLfOqo[/youtube]