Comenity Bank, the institution that issues the Torrid credit card, provides an online account center for cardholders. This lets you manage your account at a time that best fits your busy schedule.
How to Login
Step 1 – Visit the Torrid online account management center. Enter your user name and password, then click the black "Sign in" button. If you have forgotten your login credentials, click the link above the black button for assistance.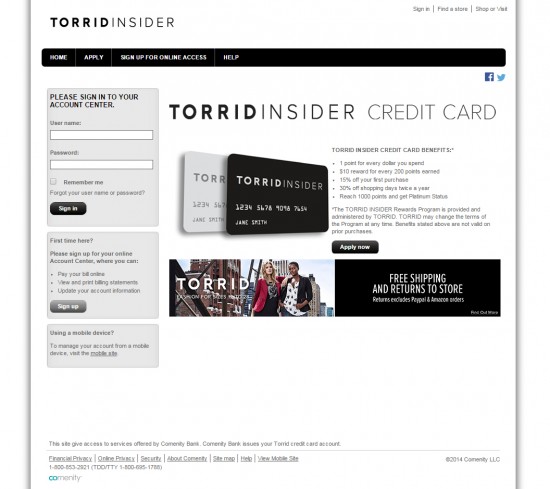 Make a Payment
The Torrid account management center lets cardholders easily view recent activity, check balances, update personal information, pay monthly bills, and handle other necessary card management tasks.
Activation
If you're a first-time visitor to the Torrid site, you'll need to create an account to view your credit card information. Click on the "Sign up" button on the main page. This will lead you to a screen with enrollment options.
To create an account, you must verify your card information, create login credentials, authorize the system to remember your device if you're using a personal computer, and enroll in paperless statements if desired.