If you are an I Fly America member and are in the market for a new credit card, you should check out the I Fly America American Express Card. With no annual fee and an APR of only 12.24% to 20.24% (APR is subject to change), it's a decent credit card even without the other benefits. Cardholders of the I Fly America American Express Card receive a free I Fly America annual membership, a $15 value, and a 0% introductory APR for the first 6 billing cycles. In addition, the I Fly America American Express Card also boasts a rewards program which includes 2 points per $1 spent on travel-related purchases, 1 point per $1 on everything else, plus a bonus $15 credit if you spend at least $500 within the first three billing cycles of card use. If you're interested in applying for this card, scroll down for links and instructions to help you complete your application.
The I Fly America American Express Card is provided by First Bankcard. Read their online privacy policy to learn how they protect your information.
Requirements
To be eligible to apply for the I Fly America American Express Card you must fulfill the following requirements:
Be at least 18 years old
Reside in the United States
Have a valid SSN
How to Apply
Step 1- To apply for the I Fly America American Express, first go to this page and click the Apply Now link.

Step 2- You should then be redirected to the online application, enter the following information here:
First name
Last name
SSN
Date of birth
Mother's maiden name

Step 3- Next, enter the following contact and housing information:
Email address
Street address
City
State
Zip code
Home phone number
Years at address
Housing status
Monthly housing payment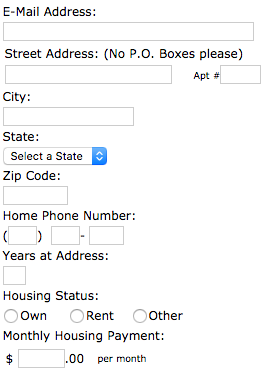 Step 4- Write your Present Employer, Business Phone Number, and Total Annual Income.

Step 5- Add another account user to your application if you wish to do so here.

Step 6- If you'd like to transfer the balance from another account click the Click here link.

Step 7- Click Confirm Information.

Step 8- Now review all the information that you have entered and print your application for your records.

Step 9- Before you submit your application, review the I Fly America American Express Card terms and conditions as well as the First Bankcard privacy policy. If you agree to the terms, tick the box indicating so and click the Submit Application Now link.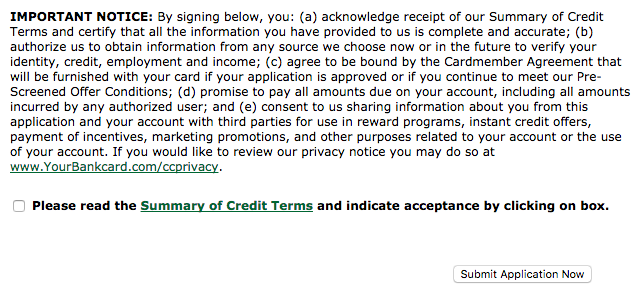 If you have successfully completed your I Fly America American Express Card application as indicated, you should receive a response within 90 seconds! We hope that this guide has been helpful.