Individuals may apply for an American Express Platinum Credit Card using the American Express website. The application is secured through 128-bit SSL meaning that all information communicated during the application process between the user and American Express is fully encrypted and will not be accessible to any other party. Approval or rejection of the application can be given in as little as 60 seconds and not longer than 48 hours.
How to Apply
Step 1: To being the application for your American Express Platinum Credit Card, go to the following Website and click the "Apply Now" button.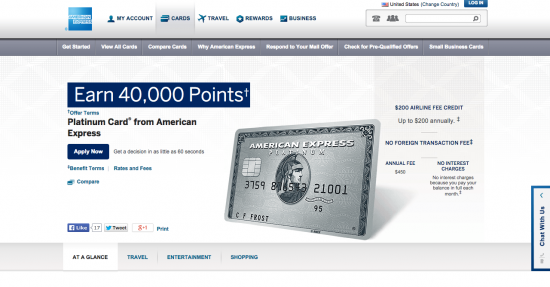 Step 2: At this point of the process it is important that you both review the terms and conditions and ensure that you have the following before proceeding.
Your social security number
A valid phone number
A valid e-mail address
The full name and social security number of anyone you wish to add to your account.
Step 3: At this step you will be required to input all of your essential personal information.
First name
Last name
The name you wish to appear on your card
Date of Birth
Social Security Number
E-mail Address
Primary phone number
Home Address
Home zip code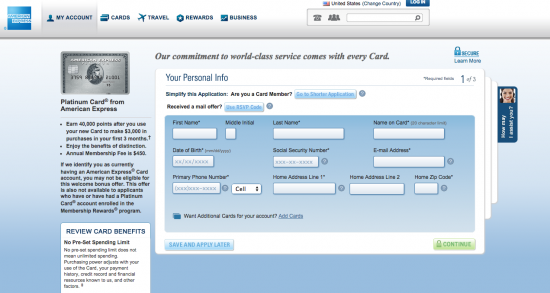 Step 4: Hit the "Continue" button and finalize the application.
How-to Video
[youtube]https://youtu.be/uowFej7Hmfo[/youtube]