Those of you receiving your MidFlorida Visa Signature Credit Card for the first time are probably anxious to start spending and collecting points. The first thing you have to do before you begin your spree is call the number on your new card to activate it. After it's set up, you will find it useful to enroll and log into your online banking account so you can access your finances anytime from any computer or mobile device; you'll be able to check balances, transfer funds, deposit checks with mobile banks and more. In case you aren't sure how to go about setting up an online account, we have created instructions below that you can follow to relieve yourself of any headaches that might ensue.
Be sure to take a look at the privacy policy provided by MidFlorida Community Credit union to gain a better understanding of their approach to information sharing.
How to Login
To begin, follow this link to get to the MidFlorida Credit Union homepage. You'll see a box on the right entitled Online Services. Enter your User ID and Password in the appropriate fields and click Login.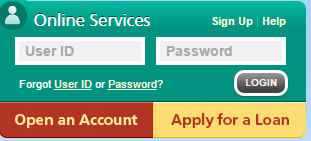 If you fail to login, it may be because you forgot your user ID or password. Click on either the Forgot User ID or Password link to retrieve your login credentials. If you forget your User ID simply enter your Member Number and last four digits of SSN to retrieve it. If you forget your Password, enter your User ID and a new password will be sent to you.
Activation/Registration
Activation #: 1 (863) 688-3733
Set up your new MidFlorida Visa Signature Credit Card today by calling the activation number we have provided above. After the activation process is complete, click on the Secure Registration link to enroll for an online banking account. To register for such an account you will need a PIN, otherwise you will have to call this number 1 (863) 688-3733 or visit a MidFlorida Credit Unioni branch.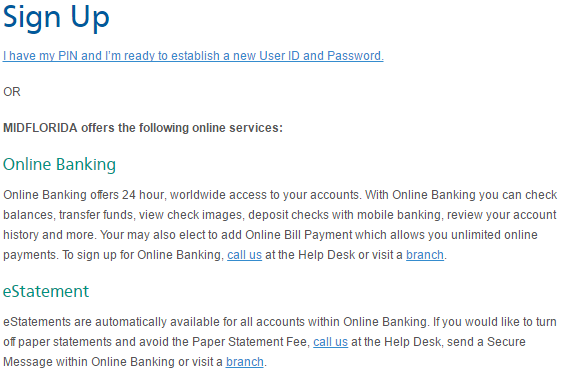 If you already have a PIN you will need to enter the following information to verify your identity and enroll for an online account:
6 digit pin from welcome letter
Social security number
Date of birth
Create a User ID
Create a password/confirm said password
Email address
Click Continue to reap all the benefits MidFlorida Community Credit Union's online banking service has to offer.