Cardholders of the New York Mets BankAmericard Cash Rewards MasterCard can gain access to their credit card account through Bank of America's online portal. This portal is designed to make it easier for users to control their finances, without having to leave their home or office. An online account is the most convenient and secure way to stay on top of your account activity, so why not take advantage of this free service? If you're not sure how to go about enrolling for such an account, we've provided a short tutorial below so you don't have to struggle through this process alone. We'll also show you how to login once your account is created, and how to activate your New York Mets BankAmericard Cash Rewards MasterCard.
We urge people to read the privacy policy put forth by Bank of America to see how they will use your personal information in the future.
How to Login
To gain access to your Bank of America online account, you need to navigate to their homepage. On the left of the screen you'll find a red Secure Sign-in box where you can enter your login information. Once you've entered your Online ID and Passcode, click Sign In. Assuming you typed your credentials in correctly, you should now be looking at the main page of your online banking account.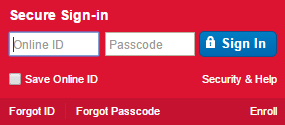 If you can't remember your login credentials, don't worry, there's a very simple procedure you can go through to recover them. Click the Forgot ID or Forgot Passcode link, depending on your situation. Both processes are almost identical, as you see in the windows below. You must enter your card or account number, your social security or tax ID number, as well as your Online ID, or Passcode (depending on which one you have forgotten). Click Continue to regain access to your online banking account.
Activation/Registration
To start making purchases with your New York Mets BankAmericard Cash Rewards MasterCard, you'll have to go through the activation process. Call the number we have provided above and a Bank of America customer representative will walk you through this process. Once completed, you'd be wise to register for an online banking account with Bank of America. Using their online banking services will save you a lot of time in the future, so let's get you set up right away. Click the Secure Registration link below the activation number in order to access the registration page. To start the enrollment process, provide your card number (or account number), submit your SSN (or TIN) and click Continue. You will be prompted to create a user ID and passcode. Once you've complete the security set up, you will have a chance to review all the information you just entered. After which, you will be able to reap all the benefits Bank of America's online banking has to offer. We hope this tutorial proved useful to you.