If you're proud to be wearing the blue, orange and white of the New York Mets, why not have those colors flashing on your credit card as well? The New York Mets BankAmericard Cash Rewards MasterCard will demonstrate that you are a proud supporter of your favorite baseball team, while simultaneously saving you money. You won't pay any annual fee, and you'll receive cash back rewards no matter where you shop. Cardholders will earn 1% cash back on everyday purchases, 2% cash back on grocery and wholesale store purchases and 3% cash back on fuel purchases. These points never expire; however, the 2% and 3% grocery store and gas station purchases have a cap of $2,500, after which, users will earn a regular 1% cash back. Still, this is a solid rewards program and you will enjoy an introductory APR of 0% for the first 12 months. APR will jump after this to somewhere between 13.24% and 23.24% depending on your creditworthiness (APR is subject to change). Make sure you know where you stand with your credit score, because you don't want to be paying high interest rates if you don't have to. There are other great cash rewards credit cards out there, but maybe you want to see the NY insignia every time you whip out your credit card. If you'd like to be a proud owner of the New York Mets BankAmericard Cash Rewards MasterCard, follow our step by step guide below to apply today.
You might want to read through Bank of America's privacy policy before submitting any personal or financial information.
Requirements
To be eligible for this credit card, you must meet the following criteria:
Applicants must be at least 18 years of age
Applicants must have a valid Social Security number
Applicants must have a valid U.S. address
How to Apply
Step 1 – To begin the application process, click on this link to get to the Bank of America MLB credit card page. There is an Apply Now button found near the top of the page. Click on that to continue.

Step 2 – The first part of the application form is where you get to choose your card type. Click on the drop down menu labeled Choose your card, and select the NY Mets from the list.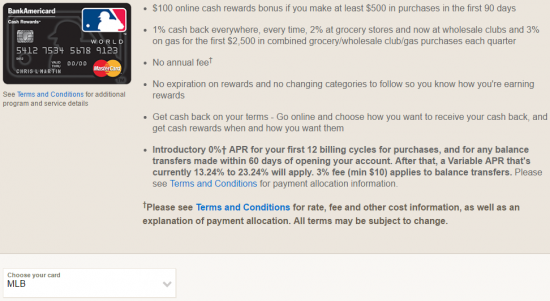 Step 3 – Next, you'll start filling out the application form. The first section has you entering the following information:
Full name
Physical address
Phone number
Email address
Country of citizenship
Country of residence
Date of birth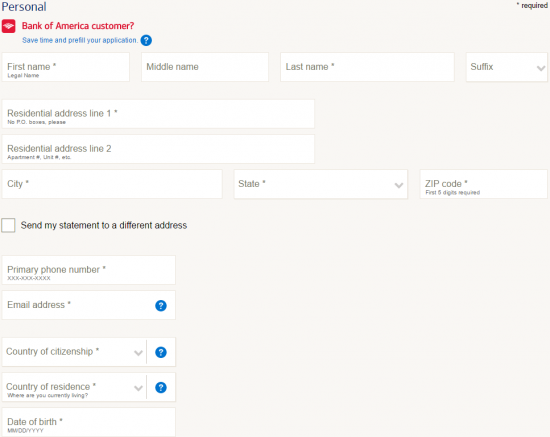 Step 4 – It is necessary for them to gather some financial data from you. This will include your Employment status, Total annual income, Source of income and Monthly housing payment.

Step 5 – This section is optional, it only applies to those wishing to make a balance transfer to their new credit card. If you'd like to make a balance transfer at this point in time, tick the box next to Transfer a balance to my new credit card and enter the balance transfer information.

Step 6 – Finally, you'll need to read through the terms and conditions before ticking the box declaring that you have read and fully understand them. Click the Review your information button to proceed to the subsequent page where you will be able to ensure that all the info provided is accurate. Once you've double checked all data, submit your application for review. We trust that your request will be approved and we hope that we have helped you navigate through the application process with relative ease. Good luck!