Cardholders of the AMSA BankAmericard Cash Rewards Visa Signature Credit Card can register for online banking through Bank of America to better manage their credit card finances at their own convenience. Through the Bank of America's online banking portal, users can access their account and utilize a variety of financial tools that include reviewing recent transactions, viewing their monthly statements, keeping up-to-date with their personal information and client profile, as well setting up automatic payments. We at Card Reviews are always looking for ways to provide extra assistance to credit card users, so in keeping in that vein, we have created a guide below to help you get started with managing your credit card finances online. By scrolling down you will be able to follow our step-by-step instructions on how to log into, and register for an online banking account, as well as how to activate a new card. We hope that you find our guide to be helpful.
Before you continue, we would recommend that you review Bank of America's privacy policy to get a better understanding of how your personal information will be used.
How to Login
In order to access your online banking account, you must first navigate to the Bank of America login page. In the Secure Sign-In window, you will need to enter your Online ID and your Passcode. Once your login credentials have been provided, click Sign In to gain access to your account.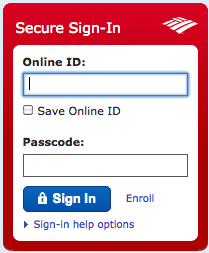 In the event that you have forgotten either of your login credentials, you will need to reset or retrieve your forgotten online ID or passcode by clicking the Sign-in help options link found in the Secure Sign-In window. From the list of options presented, select the one which applies to your situation.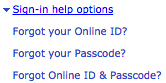 Next you will need to provide Your complete card number, Your complete SSN or TIN and, depending on which piece of information you're attempting to retrieve, Your Passcode or Your Online ID. When you have supplied the requisite information, click Continue and in the next steps, by following the instructions, you will eventually be able to update your login credentials and regain your account access.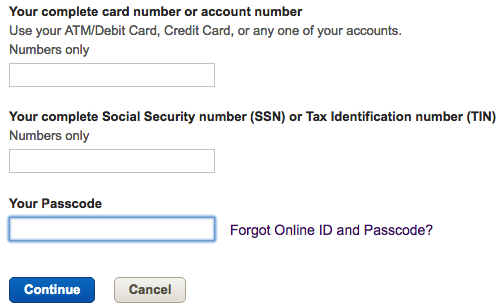 Activation/Registration
There are two ways to activate your AMSA BankAmericard Cash Rewards Visa Signature Credit Card. You can either do so over the phone, by calling the number located just above this paragraph, or you can activate your card online, by registering your account for online banking with the Bank of America. To register for online banking, click the Secure registration link above the activation number. On the account registration page, you will need to type Your complete card number or account number and Your complete Social Security number or Tax Identification number into the indicated spaces.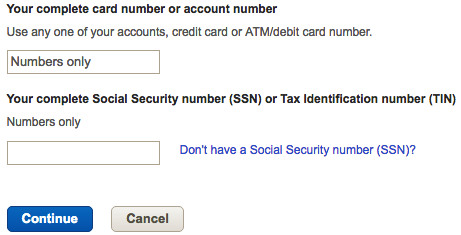 Click the Continue button and you will be able to complete your registration in the ensuing pages. We hope that our guide has assisted you in successfully registering your new card for online banking and we thank you for choosing Card Reviews as your credit card expert. Take care!