If you are a graduate of St. John's University, and just so happen to be in the market for a new credit card, the St. John's University BankAmericard Cash Rewards Visa Signature Credit Card may interest you. With this credit card, which proudly displays your alma mater, a portion of every purchase will go to university initiatives. If you are approved for this card, you will enjoy an extensive cash rewards program which includes 3% cash back on gas, 2% cash back at grocery stores and wholesale clubs, and 1% cash back on all purchases. The 2% and 3% cash back rates only apply to the first $2,500 in combined qualifying purchases each quarter. After that, the standard 1% rate applies to those purchases. The APR ranges from 13.24% to 23.24%, and is assigned based on your creditworthiness (APR is subject to change). Regardless of your assigned APR, a 0% introductory APR will apply for the first 12 billing periods following the opening of your account. If you would like to complete an online application for the St. John's University BankAmericard Cash Rewards Visa Signature Credit Card, follow our step-by-step instruction provided below.
This card is provided by the Bank of America. Before you submit your personal and financial information, take a look over their online privacy policy.
Requirements
To be eligible for this credit card you must meet the following requirements:
Be at least 18 years of age
Have a valid US mailing address
Have a US SSN
How to Apply
Step 1 – To access an online application for this card, go to the St. John's University BankAmericard Cash Rewards Visa Signature Credit Card summary page, scroll down to the More Information section and click the blue link within Click here to apply online.
Step 2 – You should now be on the application page. Scroll down to the window pictured below and provide all of the following information where indicated:
Full name
Phone number
Email address
Complete physical address (including city, state, and ZIP code)
Country of permanent residence
Mailing address (if different from physical address)
Housing status
Monthly housing payment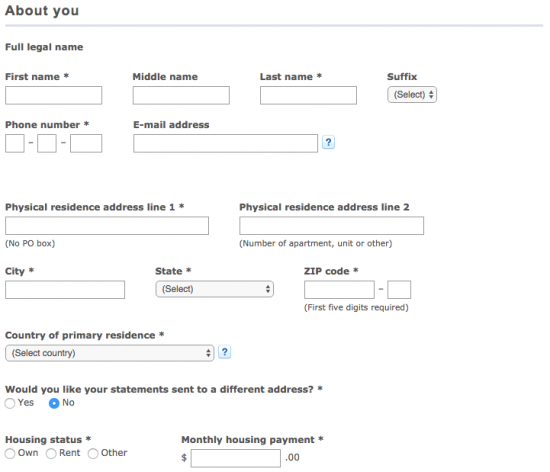 Step 3 -Next, you will be required to fill in all of the information listed below where indicated.
SSN
Date of birth
Mother's maiden name
Country of citizenship
Citizenship status

Step 4 – To determine whether you are eligible for this credit card, the bank will need the following employment information from you:
Company name or employer
Years in occupation
Occupation
Work phone number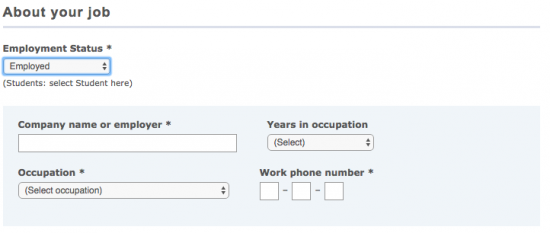 If you are a student, you will have a different set of information to supply. Provide all of the following information in the About your job section if you are a student:
School name
Student status
Year in school
Graduation date
Major
Campus phone number
City
State
ZIP code
Company name or employer (if applicable)
Job status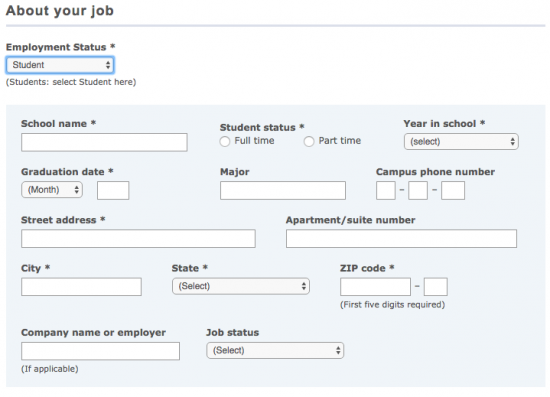 Step 5 – To further expand on your financial situation, in the About your income section, you must provide your Total annual income and select your source of income.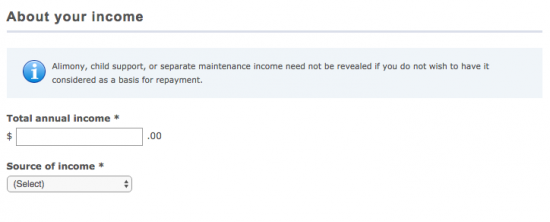 Step 6 – In this step you can choose to consolidate your existing credit card balances of up to 3 other cards onto one bill. To do so, tick the little box, select how many transfers you wish to perform, and provide the following for each balance transfer: your Credit card institution, Account number, and Requested amount. If you do not need to perform a balance transfer, skip this step. When you have completed filling out your application, click Continue.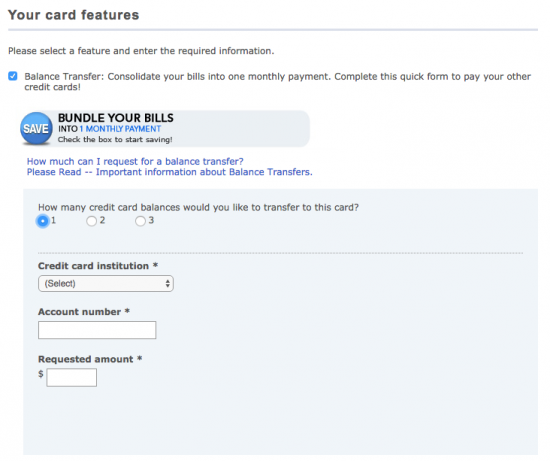 Step 7 – In this final step, you will need to review all of the information that you have entered into your application. Once you are sure that your application has been completed to your satisfaction, read the terms and conditions and indicate that you agree to them by ticking the little box. When you are ready, click Submit Application.
That's all there is to it! If you have successfully completed all of the steps detailed above, your application has been submitted for approval. We wish you the best of luck from all of us here at cardreviews.org.