Members of the American Chemical Society (ACS) have the opportunity to apply for a ACS Cash Rewards Visa Signature Credit Card, complete with a nifty periodic table set as the card's background image; how chic! Like the other cash rewards credit cards available from Bank of America, this card enables users to earn back a percentage on their purchases. The way the rewards program works is this: earn 3% cash back on fuel and 2% cash back on groceries for the first $2,500 in combined gas/grocery purchases made each quarter, earn 1% cash back on all other purchases. The interest rates are about average, though if your credit rating is strong, your APR for purchases and balance transfers could be as low as 13.24% (APR is subject to change). For those interested in applying, we at cardreviews.org have created an easy-to-follow guide, located just below, which will hold your hand as you make your way through the application process.
All applicants are encouraged to familiarize themselves with the Bank of America privacy policy to make completely sure that all personal information is being properly protected.
Requirements
All potential cardholders must meet these requirements:
Be at least 18 years of age
Have a valid US street address
Have a valid SSN
Be an ACS member
How to Apply
Step 1- The secure application form, hosted by Bank of America, is available directly from the ACS card summary page which details the rewards and savings structure of the card. Once you are on this page, select the Apply, or get additional information link in order to access the secure application.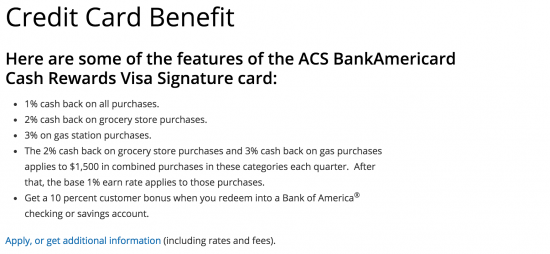 Step 2- Submit the following personal information in the provided fields to the best of your ability:
Full name
Phone number
Email
Address
Country of residence
Billing address (if different)
Housing status
Monthly housing payment
SSN
Date of birth
Mother's maiden name
Country of citizenship
Citizenship status
Step 3- In order to evaluate your creditworthiness, Bank of America requires you to submit the following financial information here:
Employment status
Years in occupation
Occupation
Work phone number
Total annual income
Source of income
Step 4- It is possible at this juncture to perform a balance transfer and to add an additional cardholder, both options being optional.

Step 5- Displayed here is the terms and conditions form for your convenience. Read through the disclosure thoroughly before clicking Continue.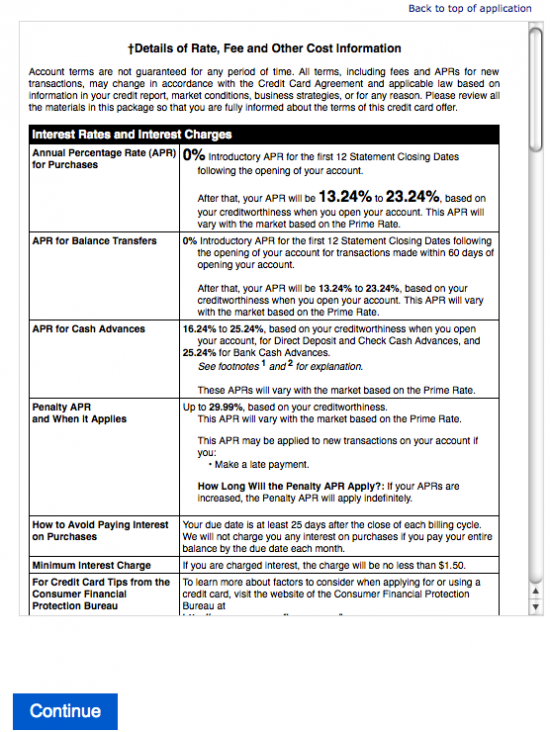 Step 6- Lastly, the small box found at the bottom of your page must be checked in order to provide consent to Bank of America's terms and conditions. When you are ready to proceed, click Submit Application to have your card request sent in to Bank of America. That's all for now! Your application will be evaluated and you should receive confirmation shortly via email.

Our team here at cardreview.org wants to thank you for choosing us as your credit card expert. Best of luck with your new card and in all your future banking experiences!