The BankAmericard Cash Rewards Credit Card makes it easy to earn cash back rewards on everyday purchases, offering you up to 3% cash back plus bonus rewards for redeeming your savings into a Bank of America checking or savings account. New cardholders also receive an online exclusive $100 cash rewards bonus when they make a minimum $500 purchase in the first 90 days of account opening.
Requirements
To receive a BankAmericard Cash Rewards Credit Card, you must:
Be at 18 years of age or older
Have a credit history free of recent bankruptcies or account delinquencies
How to Apply
Step 1 – Visit the BankAmericard Cash Rewards Credit Card welcome screen. Review the card information, then click on the blue "Apply now" button to begin your application.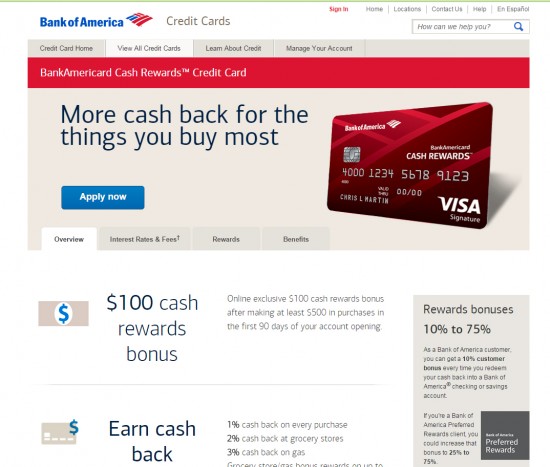 Step 2 – If you are a current Bank of America customer, click on the "Save time and prefill your application" link. This will allow you to have most of your application data automatically entered based on Bank of America's current records.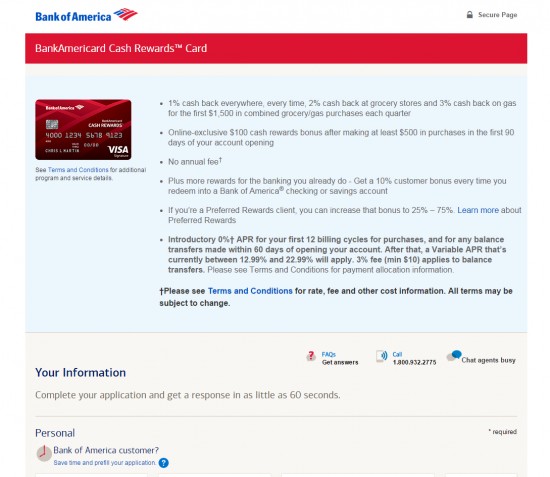 Step 3 – If you're not a current Bank of America customer, enter your first name, middle name, last name, and preferred suffix. Provide your residential address, including city, state, and zip code. If you want to have your statement sent to a different address, check the "Send my statement to a different address" box and provide your preferred mailing address.
Enter your primary phone number, alternate phone number, and email address so Bank of America has a way to contact you about your application. Provide your country of citizenship and country of current residence.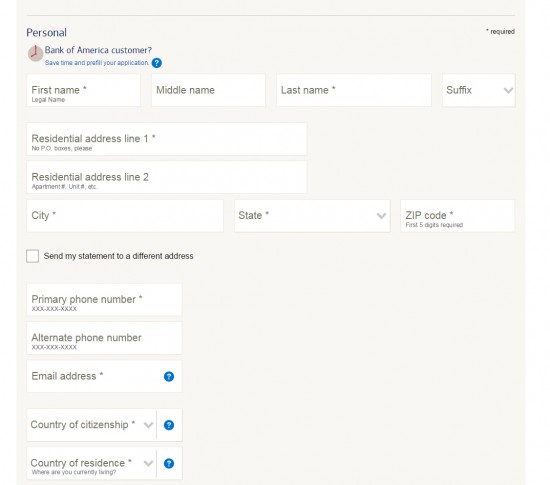 Step 4 – Complete the personal information section by providing your date of birth and mother's maiden name. Under the employment and finances section, choose the option in the drop-down menu that best describes your current employment status. If any supplemental questions appear, answer these as required. Finish the section by entering your total annual income, source of income, level of liquid assets, housing status, and monthly housing payment.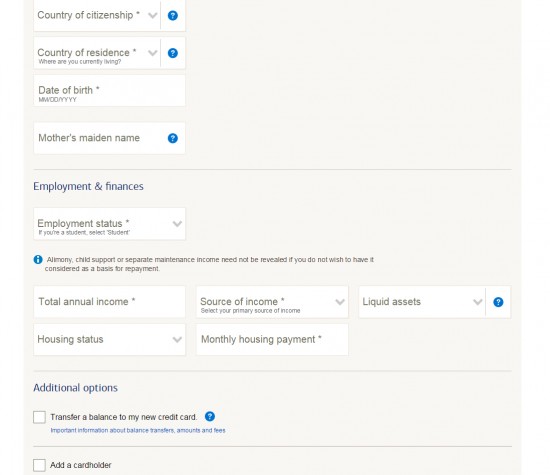 Step 5 – Under the additional options section, you have an opportunity to transfer a balance to your new credit card. If you want to do this, check the "Transfer a balance to my new credit card" box and provide your credit card institution, desired transfer amount, and account number.
If desired, you may also add a secondary cardholder. To do this, check the "Add a cardholder" box and provide the cardholder's full name, relationship to you, and either their Social Security number, date of birth, or address.
Under the terms and conditions section, click on the "View as PDF" link to save or print a copy of the document for your records. Read it carefully to make sure you understand the card policies.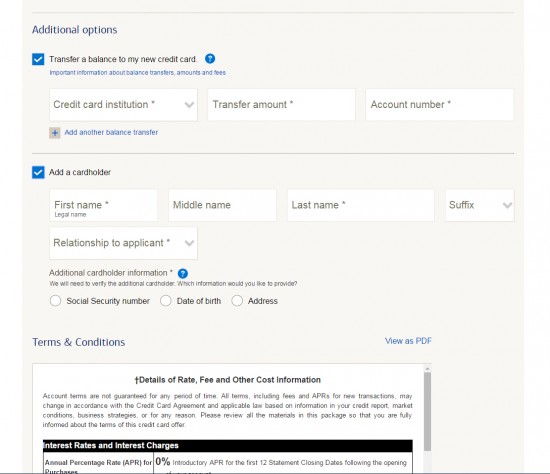 Step 6 – Check the box that indicates you've read and agree to the card terms. Click on the blue "Review your information" button. This gives you one final opportunity to double-check your application before it is submitted to Bank of America for final processing and credit approval.