If you're in the market for a new credit card, the RCI Elite Rewards MasterCard might be the right choice for you. This credit option comes with no annual fee and has an APR for purchases and balance transfers of either 15.24%, 19.24%, or 22.24%, depending on your creditworthiness (APR is subject to change). However, you will receive an introductory 0% APR for your first 15 billing cycles on all balance transfers performed within 45 days of your account opening. The rewards program associated with this particular credit card is point based; it awards a certain amount of points per dollar spent. Each dollar spent on RCI purchases will earn you 2 points while all other purchases will earn you 1. These points can be redeemed and put towards electronics, appliances, sports tickets, and gift cards. If you are interested in what this card has to offer, scroll down to out tutorial below to learn how you can apply!
Be sure to review Barclaycard's privacy policy before submitting any sensitive information into their online portal.
Requirements
In order to be eligible for this card, the following requirements must be met:
You are at least 18 years of age
You reside in the United States, Puerto Rico, or the US territories
You have a valid SSN
How to Apply
Step 1- You can access the application page for the RCI Elite Rewards MasterCard by clicking here. On the application page, select the Apply Now link to proceed.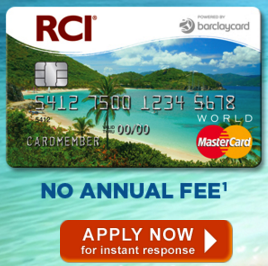 Step 2- Here you are asked to provide some General Information. Supply your First Name, Last Name, Permanent Address, City, State, Zip, Time at Permanent Address, and your Residence Status.

Step 3- Regarding your Employment and Financial Information, indicate your current Occupation and your Total Annual Income. Just below that, select Yes or No to specify whether or not you'd like to expedite the delivery of your card for an extra $15.

If you're currently a student, some additional information is required. The following details must be specified:
School address (street, city, state, zip)
School state
Specify where materials will be sent to
School name
Total annual income
Step 4- Under the Contact Information heading, supply your Primacy phone number and your Email address. Continue by selecting Yes or No to indicate whether or not you are a US citizen.

Step 5- For security purposes, enter-in your Date of Birth, Social Security Number, and Mother's Maiden Name.

Step 6- If you'd like to receive your bank statements electronically, read over this disclosure and check each of the boxes located in the Paperless Statements window. You may also consolidate your previous balances by performing a balance transfer.

Step 7- Lastly, read over the terms and conditions for this credit card. If you agree to Barclaycard's terms, click Apply to complete the application process for this credit card. Barclaycard will send you confirmation shortly regarding the approval of your card request.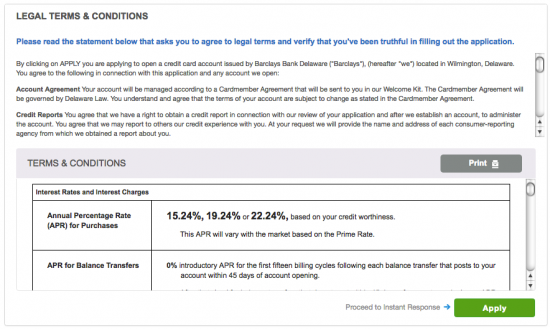 Congratulations on making it to the end of the RCI Elite Rewards MasterCard application process. We here at Card Reviews wish you the very best in all of your future banking endeavours. Take care!