Are you dreaming of your next cruise? The Royal Caribbean Visa credit card offers you a chance to earn MyCruise points to help fund your next trip. This card is issued by Bank of America.
Requirements
To receive a Royal Caribbean Visa credit card, you must meet the following requirements:
Be at least 18 years of age.
Have a valid Social Security number.
You must be a US Citizen or Resident Alien to apply for your credit card online. If you are a Non Resident Alien, you will need to visit a nearby banking center to complete your credit card application.
How to Apply
Step 1 – Visit the Royal Caribbean Visa credit card welcome page. This page outlines some of the various benefits of the card. Click the yellow "Apply Now" button to begin the application process.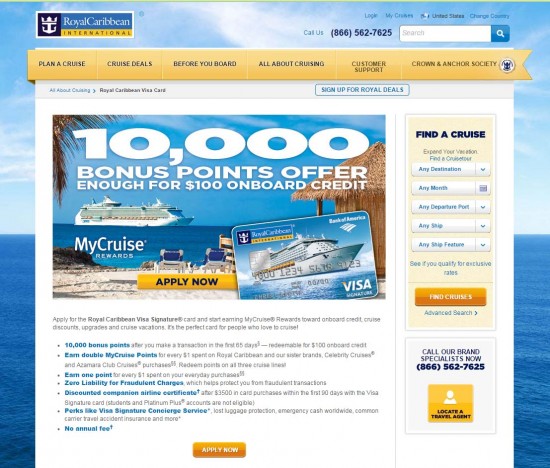 Step 2 – Enter your full legal name.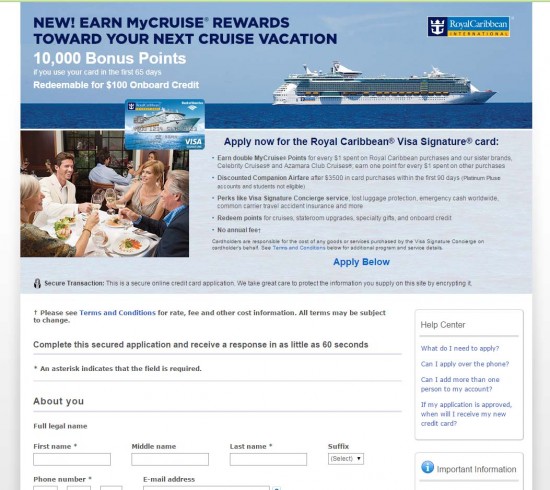 Step 3 – Enter your phone number, email address, and physical residence address.
Provide your country of primary residence and decide if you would like your statements sent to an address other than the one you previously provided.
Indicate if your housing status is best described as own, rent, or other. Provide your monthly housing payment.
Enter your Social Security number, date of birth, mother's maiden name, and country of citizenship. Choose your citizenship status, keeping in mind that you'll need to visit a banking center to complete your application of you are a Non Resident Alien.
Choose the correct employment status from the drop down menu and answer any supplemental questions that are needed.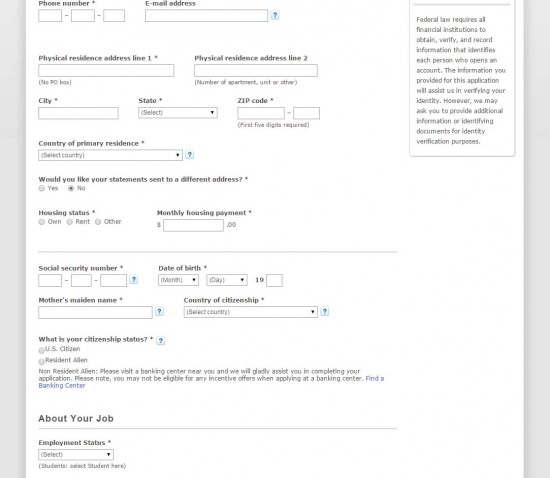 Step 4 – In the income section, list your total annual income and the primary source of your income. Alimony, child support, or separate maintenance income need not be revealed if you do not wish to have these forms of income considered as a basis for repayment of your credit card debt.
If you wish to do a balance transfer or add an additional cardholder, check the correct box in the "Your Card Features" section and answer the supplemental questions.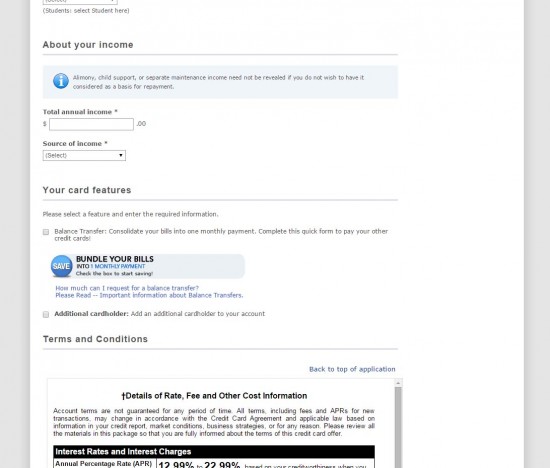 Step 5 – Review the Royal Caribbean Visa credit card terms and conditions. Click on the blue "Continue" button. This will take you to a page asking you to verify the accuracy of your application before it is submitted for final processing and credit approval.