US Bank provides their customers with a convenient and secure web portal so they can complete all their banking tasks online. Cardholders of the U.S. Bank FlexPerks Select American Express Credit Card no longer have to wait in line at the bank. Simply log into your US Bank online account to access the multitude of financial tools, as well as take care of your basic banking needs such as making payments, checking statements and setting up account alerts. Most of you are probably already familiar with a similar online service with another bank. But if you're new to online banking, we can help relieve you of the headaches that go along with navigating through these banking websites. If you follow our instructions below, you can learn how to log into an existing account, how to create a new account and, if you haven't already done so, how to activate your new U.S. Bank FlexPerks Select American Express Credit Card.
Before supplying U.S. Bank with any personal or financial information, read through their privacy policy.
How to Login
First step is to get to the U.S. Bank website and locate the login box on the right side of the page. Enter your Personal ID in the field provided and click Log In.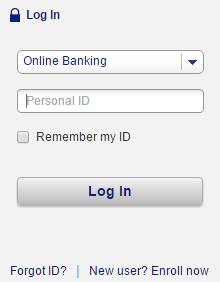 Next, you're required to enter your Password and click Log In. If entered correctly, you should be staring that the main page of your online banking account. If not, you might have given the wrong login credentials. Scroll down to learn how to recover your forgotten ID or password.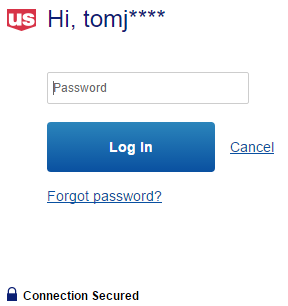 In the event that you've forgotten your ID or password, click on the Forgot ID? or Forgot password? link, respectively. You need to provide the Last 4 digits of SSN to proceed. Click Next and on the subsequent pages you will be given further directions in order for you to recover your online account.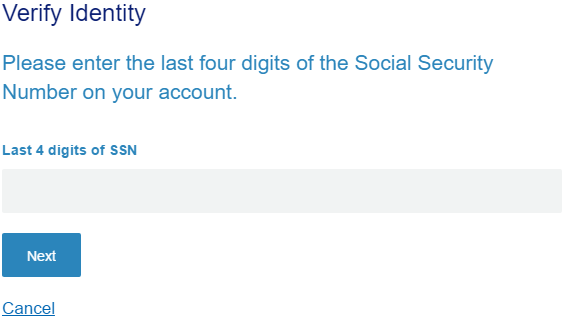 Activation/Registration
The first thing you should do upon receiving your new U.S. Bank FlexPerks Select American Express Credit Card is activate it. To complete the activation process with a U.S. Bank customer service representative, call the number we have provided above. Once the activation process is complete, you might consider enrolling for an online account. This way you'll be able to oversee your credit card activity as soon as you start using your card. To enroll for a U.S. Bank online account, click the Secure Registration link below the activation number. You are asked to select the type of account you're applying for, either Personal or Business.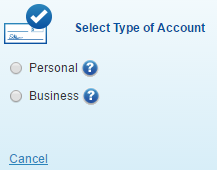 Once you have made your selection, you are asked if you have an existing account with US Bank. If you select Yes, enter the Account Number, PIN, Last 4 Digits of Your SSN and click Continue.

If you select No, you must select one of the alternative account options. The top option is for those who have a U.S. Bank FlexPerks Select American Express Credit Card. Once you've selected this option, provide the following information:
Credit card number
Signature panel code or PIN
Card expiration date
ZIP code
Last 4 digits of SSN
Click Continue and on the pages to follow you will need to agree to US Bank's terms and conditions of banking online, and you will be able to set up security measures for your account, including setting your ID and password.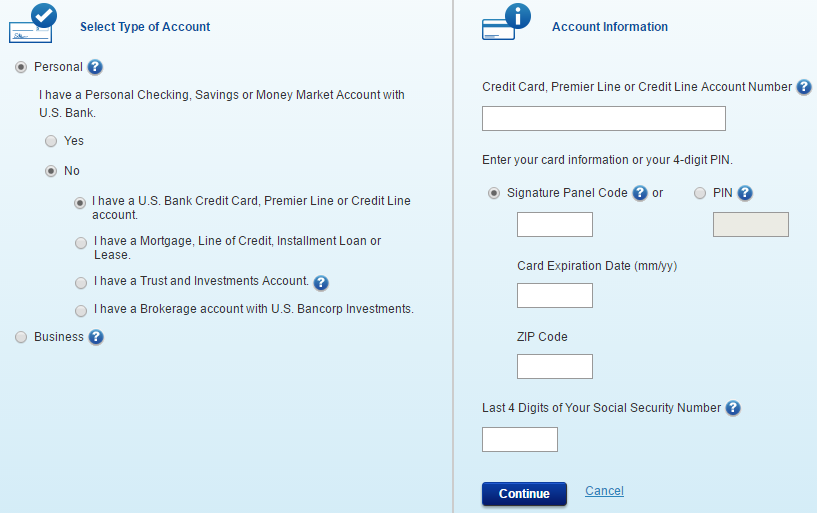 With your card activated and your online account created, it's time to start spending and start monitoring your account from your computer. We hope these instructions proved useful to you. Good luck!