Cardholders of the Amalgamated Bank of Chicago Gold MasterCard will be able to manage their finances at eZCardinfo.com, a third-party website dedicated to the online management of various credit cards. By logging into their web portal, you will be able to pay off your balance, download bank statements, update contact information, and perform a variety of financial transactions. This webpage will show you how to get started as we've explained the registration and login procedures. If you have yet to activate your card, you will also find instructions on that process below.
All new users are encouraged to review the Amalgamated Bank of Chicago (ABOC) privacy policy. This document explains the way in which your personal information will be used and protected.
How to Login
As stated above, your credit card will be managed at eZCardinfo.com. Navigate to their webpage and supply your Username in the space provided. Once entered, click Log In to proceed.

Next, type the answer to your security question in the blank space and select Yes or No to indicate whether or not your operating device is private. Click Continue and access to your online account will be granted.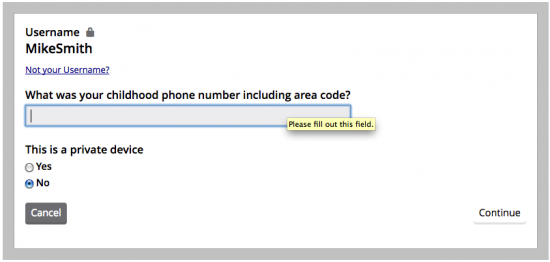 If you are unable to log in due to a forgotten username, click on the Forgot your username? link located below the login field on the main page. Supply your Credit Card Number in the blank field located on the subsequent page. Once entered, click Begin Forgot Username to proceed. Complete the remaining instructions to retrieve your username.
Activation/Registration
Since activating your credit card is not possible online, you must instead call 1 (312) 822-3000 and communicate with a customer service representative who will assist you through the process. Once your card has been activated, you may begin the registration process for an online banking account by clicking the Secure registration link located above this paragraph. On the registration page, supply your Credit Card Number and click Begin Enrollment. The steps that follow involve you providing some personal information as well as setting up your username and security questions. Once these steps have been completed, your online account should be registered and you can begin to take advantage of the card managements tools available at eZCardinfo.com. Happy banking!