Cardholders of the Amalgamated Bank of Chicago SMART Union Bank Card will be able to manage their finances with ease through Amalgamated Bank of Chicago's (ABOC) secure online banking portal. Setting up an account with ABOC will only take a few minutes of your time and will, once the process has been completed, save you the hassle of leaving home to bank in person as you can pay bills, transfer funds, and download bank statements all from the comfort of your computer or mobile device. This webpage will instruct you on how to take full advantage of your credit card by taking you through the card activation procedure as well as the steps involved in account enrollment and access.
Before proceeding, take a moment to review the ABOC privacy policy to get a full understanding of how your personal information will be used.
How to Login
To manage your Amalgamated Bank of Chicago SMART Union Bank Card online, you will need to log into your personalized account. Begin by clicking here to navigate to the online banking portal. There you should see an empty field in which you must supply your Username. Once entered, click Log In to continue.

If you are accessing your account from a computer or mobile device that isn't recognized by ABOC, you may be required to supply the answer to one of your security questions. Supply your answer in the empty field and select Yes or No to indicate whether or not your banking device is private. Click Continue to proceed and, on the next page, enter in your password to be granted access to your online banking account.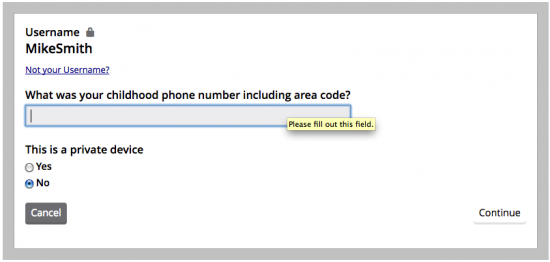 In the event that you have forgotten your login credentials, click on the Forgot your username? link found below the login field. Enter your Credit Card Number on the following page and click Begin Forgot Username to proceed. Follow the instructions provided on the subsequent pages to retrieve your login credentials.
Activation/Registration
Your credit card will need to be activated before it can be used to make payments or register for online banking. To activate your card, call the number posted above this paragraph to speak to an individual in customer service who will help you through the process. When your card has been activated, you may proceed to register for an online banking account by clicking on the Secure registration link (also posted above this paragraph). Enter-in your Credit Card Number on the following page and click Begin Enrollment to proceed. The subsequent pages will have you setting up your account by providing some personal information and deciding upon a username and password, among other things. With the account registration application complete, your online banking will be set up and ready to be used at your own convenience.

We here at Card Reviews want to thank you for letting us guide you through the card activation and account registration/login procedures. Best of luck with your new account!