For anyone looking to establish or re-establish their credit score, getting a secured credit card is a good option. Your credit limit for your secured credit card will be dictated by the amount provided as a security deposit during the creation of the account. The bank that issues the card will have the ability to draw from this deposit if you get too behind in your payments. In this way, you will avoid damaging your credit score. One secured option that you may be interested in is the Amalgamated Bank Secured Visa Card. Security deposits for this credit card must be made in an amount between $300 and $5,000. The APR is set at 21.49%, which is fairly high, but as long as you keep up to date with paying off your balance, you can avoid paying interest (APR is subject to change). There is an annual fee of $35, so even if you pay off your balance on time every month, you will have to pay for the privilege of using this card. If you would like to apply for the Amalgamated Bank Secured Visa Card, scroll down and follow our step-by-step application guide.
This credit card is issued by a third party, Elan Financial Services. Before submitting any personal or financial information, we recommend that you consult their privacy policy.
Requirements
To be eligible for this credit card you must meet the following requirements:
Be at least 18 years of age
Have a valid US address
Have a valid SSN
Make a deposit of $300 to $5,000
How to Apply
Step 1 – To start the application process, you will need to navigate to the Amalgamated Bank credit card summary page (you can do so by following this link). Once there, scroll down and find the Secured Visa Card. When you have located it, click the Apply Now link to continue to the next step.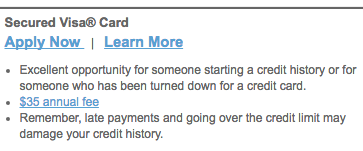 Step 2 – Now you will need to select whether you would like to pay your security deposit using an online banking account or by sending a cashiers check/money order. Click the Get Started button beneath the option you wish to choose to continue to the application page.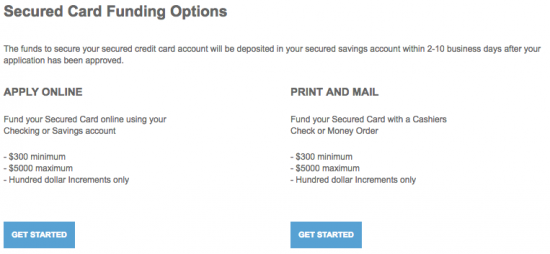 Step 3 – In the Personal Information section you will need to provide the following personal information:
Full name
Date of birth
SSN or Tax ID #
Country of citizenship
Alternate country of citizenship
Country of permanent residence
Primary and mobile phone number
Email address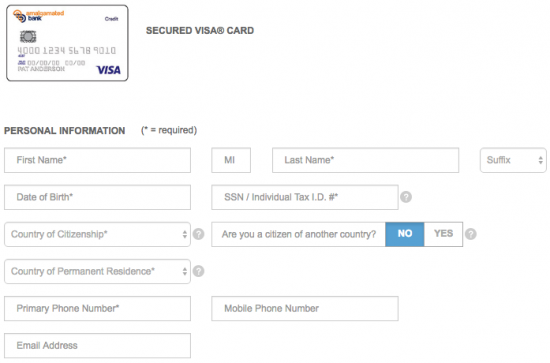 Step 4 – Next, you will need to enter all of the information listed below into the Housing Information section.
Street address
City
State
ZIP code
Time at address
Housing status
Monthly payment
Alternate mailing address (if applicable)

Step 5 – The Income and Employment Information section of the application requires that you provide the following information:
Employment status
Employer
Occupation
Annual income
Other income (if applicable)

Step 6 – Here, you will need to indicate any existing accounts that you may have with Amalgamated Bank by selecting Yes beside the appropriate options.

Step 7 – At this juncture, if you would like to add a Joint Applicant, select Yes and provide the necessary information. Next, you will need to provide the following information to make your security deposit:
Funding account type
Account number
Routing number
Funding amount ($300-$5,000)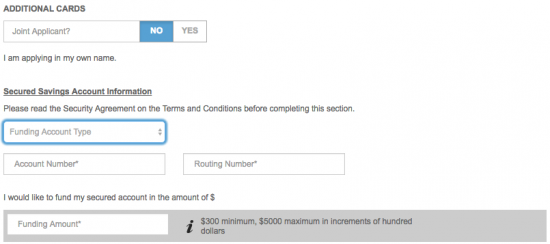 Step 8 – Now, enter your SSN/Individual Tax ID # and tick the box that certifies this information before continuing to the final step.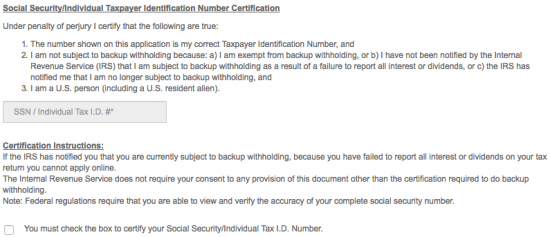 Step 9 – In this final step, you must read and agree to the terms and conditions for the Amalgamated Bank Secured Visa Card. When you are ready, tick the box marked I accept the Terms and Conditions and click Submit.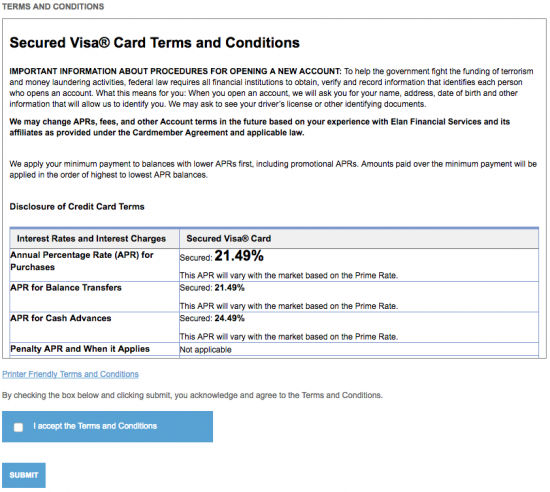 If you followed all of the above steps correctly, your application has been submitted for review. We trust that your application will be accepted and hope that our guide has been helpful for you today.