Are you looking for a new credit card, but can't get approved for one? Do you have bad credit? If either is the case, you may want to look into getting a secured credit card such as the U.S. Bank Secured Visa Card. Credit options such as this do not usually offer any rewards and often carry an annual fee. That being said, they do provide an option for anyone who has a lower credit score and can't seem to get accepted in any of their applications. The U.S. Bank Secured Visa Card will give you a credit limit equal to the sum submitted as a security deposit upon application. This deposit must be made in the form of an online payment or through a cashier's check/money order. This card comes with a $29 annual fee and a fixed APR of 19.49% (APR is subject to change). If you have yet to apply for a card, and this is the first one you're considering, we recommend shopping around and seeing if there are rewards cards, or low APR options that you can get accepted for as this Visa is far from ideal. If this is the credit card for you, then follow the step-by-step application guide below.
Before you provide any sensitive information on their website, we recommend that you read the U.S. Bank privacy policy.
Requirements
To be eligible for this card you must fulfill the following requirements:
Be at least 18 years of age
Be a legal resident of the United States
Have a SSN
Make a security deposit equal to the amount of your requested credit limit
How to Apply
Step 1 – To access a secure application, go to the U.S. Bank Secured Visa Card page by clicking here. Once accessed select the Apply Now link.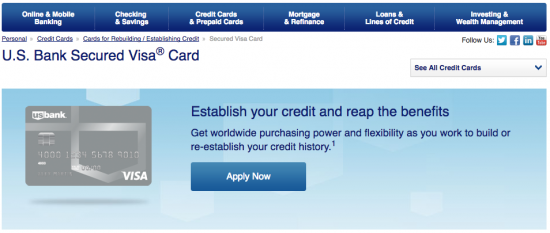 Step 2 – Now you will need to select your security deposit option by clicking the Get Started link beneath either Apply Online (to pay using an online banking account) or Print and Mail )(to pay with a cashier's check or money order)."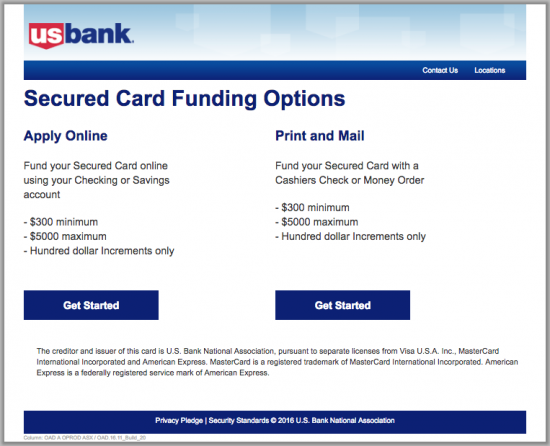 Step 4 – You can now begin filling out your application by providing the following information:
First name
Last name
Date of birth
SSN or Tax ID #
Country of citizenship
Primary phone number
Mobile phone number
Email address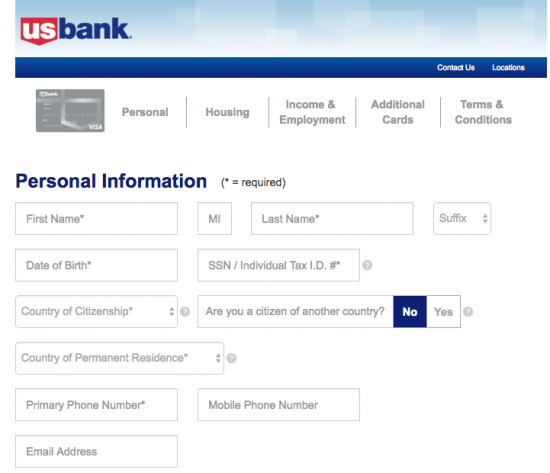 Step 5 – In the Housing Information section, you must supply all of the information listed below.
Street address
Apartment number
City
State
ZIP code
Time at address
Housing status
Monthly payment
Alternate mailing address (if applicable)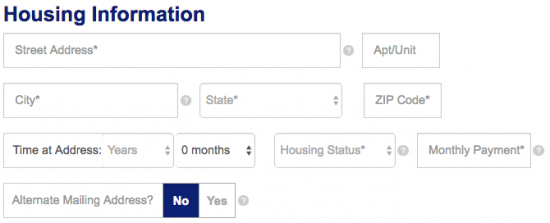 Step 6 – In the sections pictured below, you will need to provide the following information:
Employment status
Employer
Occupation
Annual income
Other income (if applicable)
Whether you have a checking and savings account
Whether you are adding a joint applicant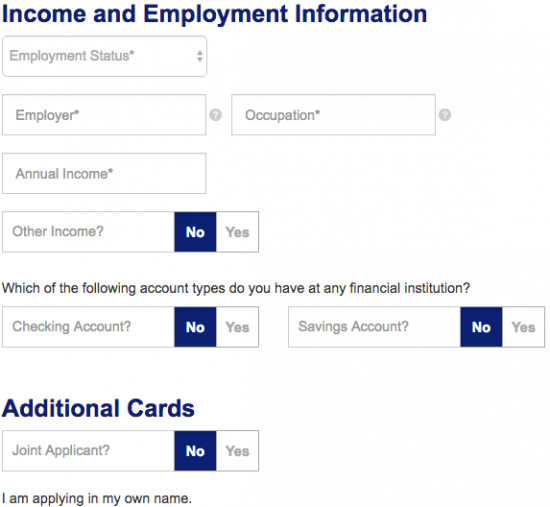 Step 7 – At this juncture, you must enter the Funding Amount that you will be making as your security deposit.

Step 8 – Now enter your SSN/Individual Tax I.D. # in the appropriate space and tick the box that indicates that you attest that this is your correct information and that you are not the subject of "backup withholding."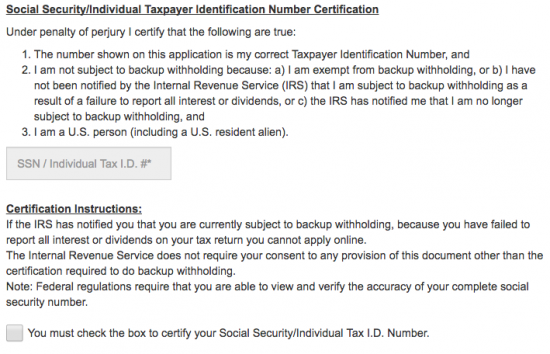 Step 9 – In this last step, you must read the terms and conditions for this credit card and tick the box indicating your agreement to said terms (assuming this is the case). When you are ready, click Continue to submit your application.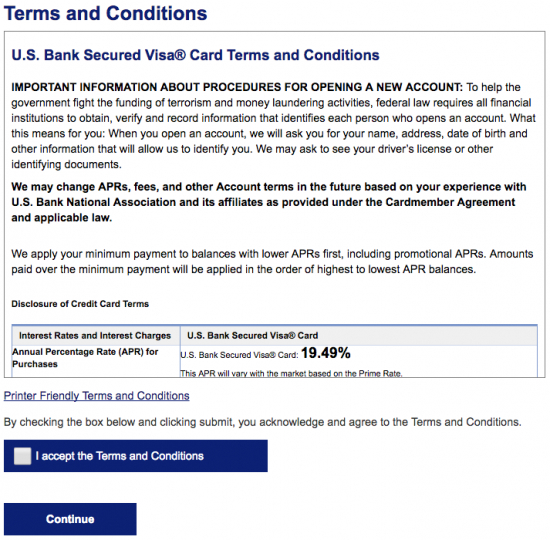 This brings us to the end of our tutorial! We hope that our guide has been of service to you today and trust that your application will be accepted. All the best!