If you've recently discovered that your credit score isn't up to par, a good way to rebuild is to apply for the Astoria Bank Secured Visa Credit Card. It should also be noted that anyone trying to establish good credit right away, can benefit from this particular credit card. Applicants are able to request their own credit limit at the beginning, by providing a deposit. This deposit acts as collateral, so if you miss a payment, the bank will use it to cover your payment. This makes it a low-risk situation for both parties involved. When applying for this credit card, you will make a single deposit between $300 and $5,000, to be approved by the bank. If you are approved, and maintain a good payment history, you could get your deposit back in as little as 11 months. Furthermore, you could qualify for a credit limit increase (without another deposit) in as little as 7 months providing you use your card regularly and make on-time payments. The APR for purchases and balance transfers is 20.24% (APR is subject to change), and users will pay a $19 annual fee. It's true that there are other secured credit cards out there that offer the same service for a lower APR. With that being said, it's rare that you'll run into one that asks this little in the way of an annual fee. The Astoria Bank Secured Visa Credit Card is a solid choice for this particular kind of credit card. If you'd like to apply, you can follow our step-by-step instructions below.
Take a look at First National Bank of Omaha's privacy policy to learn how they will use the information you enter in the application form.
Requirements
Make sure you meet the following requirements before applying for this credit card:
Applicants must be at least 18 years of age
Applicants must have a valid US address
Applicants must have a valid SSN
Applicants must make a deposit of $300 (min.) to $5,000 (max.)
How to Apply
Step 1 – The first step of the application is to navigate to the Astoria Bank consumer credit card page. From there, you can scroll down to the Astoria Bank Secured Visa Credit Card and click on the image of the card to get to the next step. If a notice presents itself notifying you that you're now leaving the safety of their website to continue to a third party site, it is safe to continue.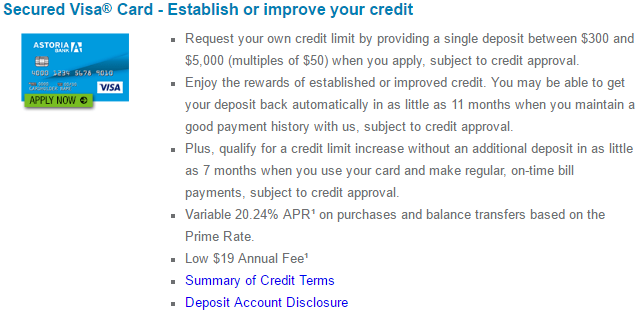 Step 2 – Once the page loads, you can begin filling out the application form. The first part of the form asks for the following information:
Name
Physical address
Home phone number
Email address

Step 3 – Next, you need to provide your Date of Birth, Social Security Number and Mother's Maiden Name.

Step 4 – This step requires that you provide the number of Years at Address, your Housing Status and Monthly Housing Payment.

Step 5 – To better understand your financial situation, First Bankcard asks that you provide the name or company of your Present Employer, a Business Phone Number and your Total Annual Income. To provide First Bankcard with additional financial information, you may choose to divulge the amount of money in your Checking Account, Savings Account and/or Investment Account.

Step 6 – At this juncture, you are able to make a balance transfer and/or add another user to your new credit card account. Both are optional, skip this step if neither of these sections apply to you. If you'd like to make a balance transfer, click the link in the Balance Transfer section and enter the necessary information. To add an Authorized User to your account, enter the person's full name. Click Continue once you've completed this section.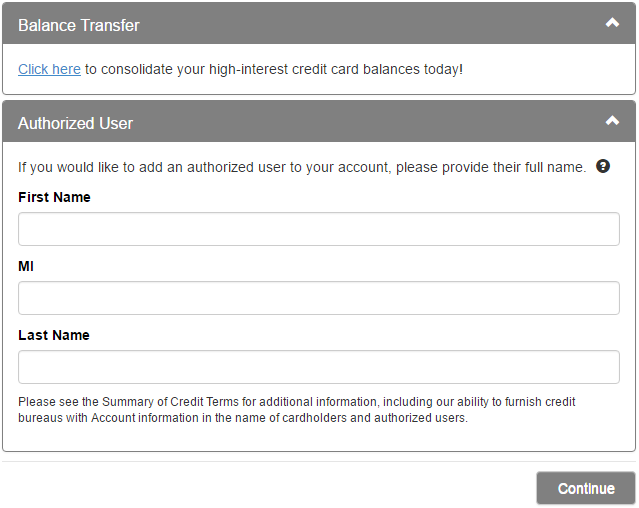 Step 7 – The last step of the application form asks that you read the card's terms and conditions. When you're done reading, tick the box to show you've accepted the terms and click Submit.

Now you can sit back and relax, and await your approval. Hopefully these instructions have aided you in achieving your goal of applying for the Astoria Bank Secured Visa Credit Card. Best of luck!